You don't have to be well versed in watchmaking to know that the luxury watch industry is a vast one. There is more to the trade than just Rolex and Omega. Many great brands exist out there, making the level of competition relatively high. However, I think it is safe to say that each brand brings a unique touch and legacy to the watchmaking world, regardless of its price point and popularity. Maurice Lacroix, one of the best affordable watch brands known for its sophisticated style, is the perfect example of a hidden gem with a rich history. Let's take a closer look into this ingenious Swiss watch brand. 
Maurice Lacroix's Legacy
Maurice Lacroix watches were first introduced in 1975 under their parent company, Desco von Schulthess. Prior to its launch, Desco von Schulthess already had experience in representing other Swiss watch brands. Their familiarity with the trade allowed them to manage third-party labels and, eventually, acquire a watch manufacturing business in Saignelegier. Thus, the emergence of their very own brand, Maurice Lacroix. 
The establishment of Maurice Lacroix was received with so much positivity that the company decided to end its business relations with other watch manufacturers. This was done in order to focus on the growth and development of their own brand. Years of steady success soon followed and Maurice Lacroix officially became an affordable, luxury watch brand. 
The Pioneering Collections
In 1990, Maurice Lacroix released their first collection called The Calypso, which would eventually be one of their best-selling pieces. The Calypso came in two different sizes and styles. One came with a genuine reptile strap, a steel case with gold-plated bezel, and Roman numeral hour markers. While the other one featured a bicolor bracelet, a steel case with gold-plated and titanized bezel, and rhinestone hour markers.
In 1992, they released another collection called Les Mécaniques, presently known as the 1st Masterpiece Cinq Aiguilles, which had a unique and seemingly complicated five-hand feature. Meanwhile, in 1999, they came out with the first Calendar Retrograde piece. 
Technical Innovations
Maurice Lacroix entered the 2000s with independence, technical innovations, and design improvements in mind. In 2001, they officially became an independent, legal entity.
In 2003, they released the first Double Retrograde piece while, in 2006, they launched their very own mechanical calibre ML-106. Two years later, in 2008, Maurice Lacroix came out with the first mechanical watch with a memory function called the Memoire 1, also known to be one of the most complicated timepieces ever created. 
Despite being a relatively young brand, Maurice Lacroix has proven that they can keep up with their competitors through the technical and creative impact they left in the industry. While that sums up the evolution of Maurice Lacroix as a brand, let's delve deeper by getting to know the different collections they offer.
Maurice Lacroix's Different Collections
The Masterpiece Collection

 
As mentioned, Maurice Lacroix's Masterpiece collection was originally known as Les Mécaniques. This collection is the oldest among the bunch as it was first launched in the early '90s. Patrons of Maurice Lacroix would say that the Masterpiece collection is the reason behind the brand's ingenious reputation. The eccentric five-hand component paved the way for Maurice Lacroix to be known as a brand that perfectly executes timeless designs with unique, complicated features. In addition, this is why the Masterpiece collection is also dubbed as the "world of complications".
In terms of design, no one can deny that this collection is truly one of a kind, each piece looks equally unique and intricate. This series is the most expensive one among all that Maurice Lacroix offers. The Masterpiece collection comes in multiple model variations such as the Triple Retrograde, Retrograde Calendar, Mysterious Seconds, Gravity, Square Wheel Retrograde, Chronograph Skeleton, Moonphase Retrograde, and Moon Retrograde.
The Aikon Collection
In comparison to the Masterpiece collection, the Maurice Lacroix Aikon collection already seems a lot more simple and subtle just with one look. This collection is perfect for those who are more inclined towards classic and sophisticated styles. It also happens to be a direct descendant of Maurice Lacroix's first ever collection, The Calypso. This collection comes in multiple models, such as the Aikon Automatic, the Aikon Automatic Chronograph, the Aikon Venturer, and others. Each model corresponds to a different design, size, and its own specifications. In terms of price, this collection ranges from $1,990 USD to $7,690 USD. 
The Pontos Collection
The Pontos collection is another set of timeless yet intricate pieces by Maurice Lacroix. It is a contemporary take on the classic craftsmanship that occurs in watchmaking. The key attribute of this collection lies in the elaborate roundness of its dial cases. As of today, the two Pontos models available are the Pontos Chronograph and the Pontos Chronograph Monopusher.
The Les Classiques Collection
The Les Classiques collection highlights Maurice Lacroix's standing as a luxury watch brand that is able to balance technicality and artistry. The above mentioned collection proves that they are a trailblazer when it comes to the engineering aspects of watchmaking, but the Les Classiques collection shows that they also have high regard for the aesthetics of the craft. They try to express certain emotions through their collections and often reference the moon in the design. The Les Classiques Moonphase has  one of the most creatively forward yet classic-looking watches I've ever encountered and is truly a work of art.
The Fiaba Collection
The Fiaba collection is one that is specifically catered to women. It was first launched in 1995 and has been a quintessential range for luxury ladies' watches since then. As it is a series dedicated to women, the pieces are characterized by feminine, refined, and progressive designs. However, the beauty of the collection lies in the belief that it there is a perfect Fiaba for every girl out there. Whether you're simple, preppy, a professional, or a drama queen, you will find a match among its array of  elegant timepieces.
The Eliros Collection
Lastly, we have the Eliros collection. It is a relatively large series that also includes multiple models of different functions, sizes, and designs. This is the most affordable collection out of the six mentioned in this article. What makes it even better is that you can actually interchange the straps/bracelets, making it a customizable range. It allows you to have a seemingly different timepiece every day without breaking the bank. This collection is an amalgamation of the different classic pieces Maurice Lacroix has to offer but with a contemporary twist.
Best Maurice Lacroix Watches Under $1000
Since Maurice Lacroix is known for being an affordable luxury brand, we've created a list of the best watches they offer under $1000 USD.
1. Maurice Lacroix Aikon Quartz (

AI1006-SS002-170-1

)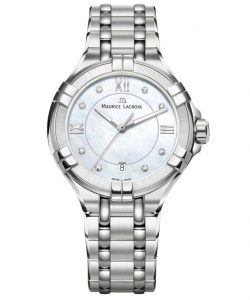 CHECK LATEST PRICE
This Maurice Lacroix Aikon Quartz Ladies' Watch comes in a 35mm stainless steel case and stainless steel strap. The dial is made out of white mother-of-pearl and eight diamonds with rhodium-plated indexes and hands. It has a date component at 6 o'clock and features a Swiss quartz movement. Lastly, it has a water resistance of up to 100m or 10 ATM. This model definitely radiates elegance and luxury, a piece that can perfectly blend in any situation.
2. Maurice Lacroix Aikon Date
 (AI1008-SS002-331-1)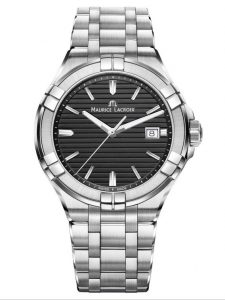 This Maurice Lacroix Aikon Date Watch is one of the best options out there for an everyday watch. It has a 42mm stainless steel case with a strap of the same material. The dial comes in black and is surrounded by rhodium-plated indexes and hands. It also features a date component at 3 o'clock, follows a Swiss quartz movement, and has a water resistance of up to 100m (or 10 ATM).
3. Maurice Lacroix Aikon Chronograph (AI1018-SS002-130-1)

This Maurice Lacroix Aikon Chronograph Watch comes in a 44mm stainless steel case and bracelet. The dial is in silver with a black outline. It includes three sub-dials, which feature small seconds at 6 o'clock, 30 minute counter at 9 o'clock, and a 1/10 second counter at 12 o'clock. The Aikon Chronograph also runs on a Swiss quartz movement and has water resistance up to 100m (10 ATM). This is a simple but modern-looking piece that is perfect for those who value both design and functionality.
4. Maurice Lacroix Eliros Moonphase (EL1108-SS002-110-1)
The Maurice Lacroix Eliros Moonphase Watch is yet another aesthetically pleasing piece. This is  a great option for those who enjoy watches that incorporate artistic innovations with classic aesthetics. It has a 40mm stainless steel case with a silver sun -rushed dial and a stainless steel strap. Furthermore, it includes a date component at 6 o'clock and a moon phase feature located between 10 o'clock and 2 o'clock. Furthermore, it also runs on a quartz movement and has a water resistance of up to 50m (5 ATM). 
5. Maurice Lacroix Eliros Chronograph (EL1098-PVP01-113-1)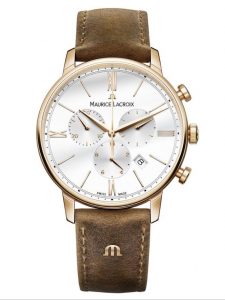 This Maurice Lacroix Eliros Chronograph Watch is a very versatile piece and would look amazing in both everyday and fancy settings. It is a good option for those who wish to invest in a watch that they can maximize and use whenever they want to. This model comes in a 40mm rose gold PVD case with a vintage brown leather strap. In addition, it also has a white lacquered dial with rose gold indexes and hands. It features three sub-dials for the seconds, 30 minutes counter, and 1/10 second counter features. Lastly, it runs on a quartz movement and has a water resistance of up to 50m (5 ATM).
5. Maurice Lacroix Fiaba Date

 (FA1003-PVP06-110-1)
The Maurice Lacroix Fiaba Date Watch is the epitome of a fail-safe watch for ladies. It is a dependable and versatile piece that would look amazing in both casual and formal settings. It has a 28mm rose gold PVD case with a bracelet of the same material. The dial showcases a water drop guilloché pattern in silver, Roman indexes in black, and rose gold-plated hands. In addition, it features a quartz movement and has a date component at 3 o'clock. Indeed, this watch is a gem that would make a lovely accessory regardless of the occasion.

 
6. Maurice Lacroix Eliros Date
 (EL1118-PVP01-112-1)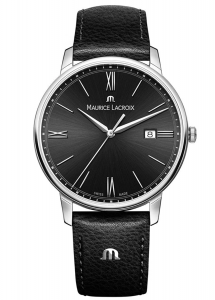 The Maurice Lacroix Eliros Date Watch is a minimalist timepiece that gives off quite a vintage, retro feel to it. This watch comes in a 40mm stainless steel case with a black calf leather strap. The black dial features silver indexes and hands. It runs on a quartz movement and has a date component at 3 o'clock. In addition, it also has a water resistance of up to 50m (5 ATM). 
7. Maurice Lacroix Eliros Chronograph
 (EL1098-PVP01-411-1)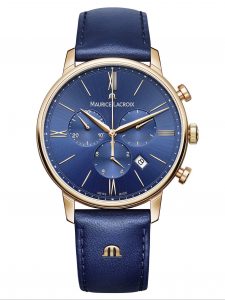 This Maurice Lacroix Eliros Chronograph Watch screams regal and proud. It comes in a 40mm rose gold PVD case with a blue calf leather strap. The dial has a sun brushed pattern in blue, rose gold indexes, and rose gold-plated hands. It also features a quartz movement and a water resistance up to 50m (5 ATM). It has three sub-dials with the following functions: small seconds at 3 o'clock, date window at 4:30 o'clock, 30 minutes counter at 9 o'clock, and 1/10 second counter at 6 o'clock.
8. Maurice Lacroix Fiaba Diamond (FA2164-SD531-114-1)
If you're looking for a dainty, simple, and classy ladies' watch then this Maurice Lacroix Fiaba Diamond Watch is for you. It has a very sleek and stylish feel to it especially since it is predominantly white. It comes in a rectangular case and a white leather strap. The dial is mostly in silver and white with silver indexes and hands. The star of the show, of course, is the bezel, which is made out of stainless steel and is decorated with diamonds. Lastly, it runs on a Swiss quartz movement for maximum accuracy.
9. Maurice Lacroix Eliros Rainbow (EL1118-PVP01-090-1)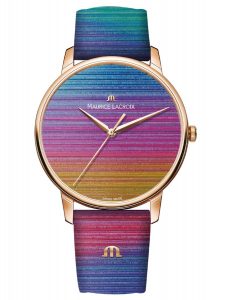 The Maurice Lacroix Eliros Rainbow Watch is probably one of the most vibrant and exuberant pieces they have in their arsenal. Just simply looking at this watch will give anyone an instant serotonin boost. The Eliros Rainbow comes in a 40mm rose gold PVD case with a rainbow leather strap. The minimalist dial follows a rainbow pattern and only includes rose gold-plated hands along with the brand's logo. Another attractive feature of this watch? Its price — this watch will be yours for only $590 USD. 
Is Maurice Lacroix a good watch brand? 
In order to have a better understanding of Maurice Lacroix as a brand, let's look at it side by side with one if its competitors, Frederique Constant. To start, both brands are known to be affordable or accessible luxury. This means that they offer luxury timepieces that are on a lower price range compared to the big names in the luxury watchmaking industry. Furthermore, both also value innovation and technicality, which clearly reflect on their different collections. Lastly, both brands have high regard for ensuring that the pieces they put out are of the highest quality they can possibly offer. 
However, the two brands also differ, particularly in terms of brand values. As explained and seen in the section above, Maurice Lacroix is a brand that perfectly incorporates creativity into their technical innovations. Frederique Constant, on the other hand, prioritizes the creation of classic and traditional watches. Again, this difference can be seen in their collections. Maurice Lacroix pieces are more avant-garde, while Frederique Constant pieces are more conservative. Regardless, both brands offer elegant, timeless watches that you should definitely check out. 
Why should you buy a Maurice Lacroix watch?
After all the information poured into this article, it is easy to forget the true essence of Maurice Lacroix. Here's a list of reasons why this brand deserves more credit than it gets. 
Its colorful history is a testament to its ability to keep up with its competitors. Again, the luxury watchmaking industry is larger than it seems. As a brand that has been in the market for only 46 years, it is amazing how far they've come. By the time of their first launch, there were already many well-established brands yet they managed to make a name for themselves as well. They definitely did not let their prior experience in representing Swiss watches go to waste.
Their artistry and progressive innovations are unlike any other. Maurice Lacroix's sic collections are enough proof of how well they incorporate the concept of creativity and being a pioneer in their craftsmanship.

 From their very first collection to the latest, they always meet and go beyond the expectations of their patrons. 

They're worth the price. Even as an affordable luxury brand, the cost of one of their watches is still quite high for an average person. However, if you do choose to invest in a Maurice Lacroix piece, rest assured that you'll get your money's worth as they have high regard for manufacturing high-quality products.

 
Final Thoughts
To sum things up, Maurice Lacroix is brand that truly values their craft. Being able to release six equally innovative and artistic collections is no easy feat, but they were able to do so because of their utmost commitment to manufacturing ingenious, quintessential timepieces. One would even say that they succeeded in building an empire of their own. Through making unconventional yet chic Swiss watches, they were able to break the idea that classic equates to standard or ordinary. Instead of conforming to an already established industry, Maurice Lacroix chose to take a risk and think outside of the box. This enabled them to become the esteemed brand they are now. 
For more affordable, quality watches, check out our guide to Citizen Watches.