When it comes to fashion watches, who could forget Fossil Watches? It is a brand praised for its cool designs and moderate prices. But what lies beyond the success of this brand? Are Fossil Watches really even that good?
Let's take a deep dive into Fossil Watches, their background, their best collections, and the selling points that make the brand what it is.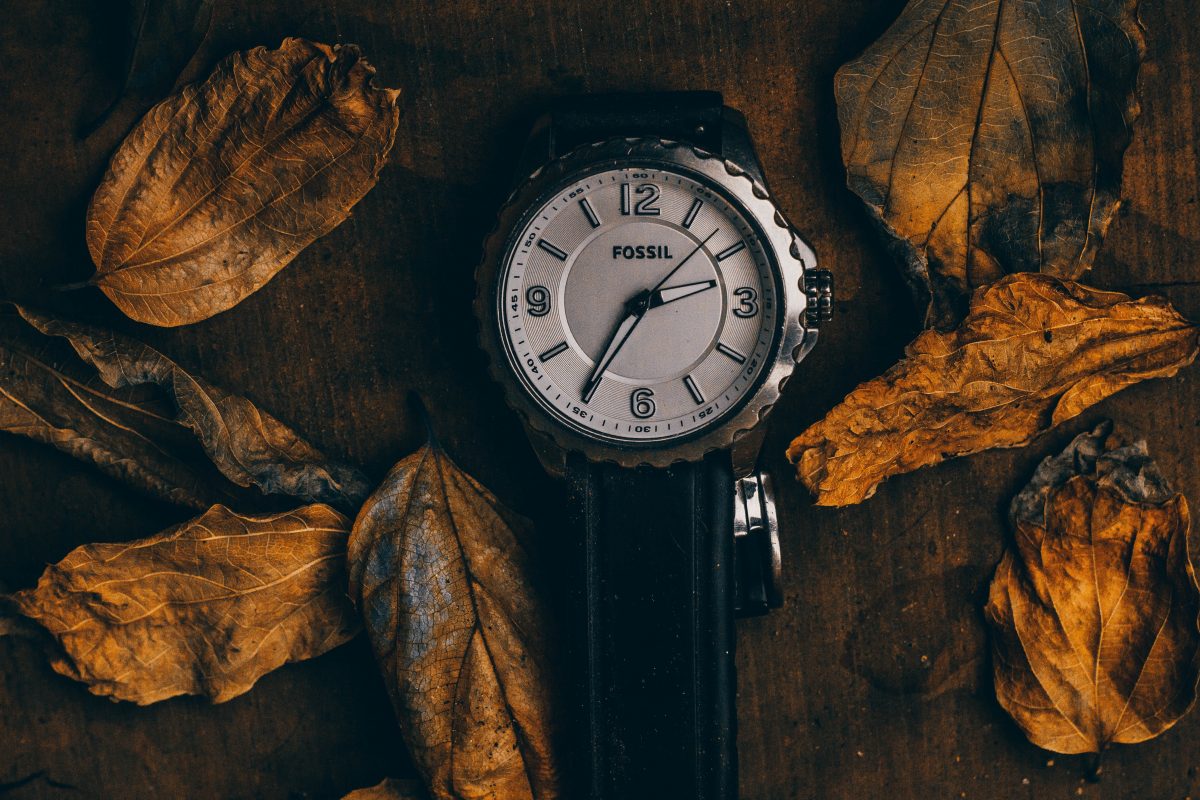 About Fossil
The Fossil Group is the parent company to many lifestyle brands, one of which is Fossil Watches. It is an American company founded in Texas in the early 1980s. Aside from Fossil Watches, the Fossil Group also has other watch brands under its wing such as Misfit, BMW Watches, and Zodiac Watches. It also has partnerships with famous brands such as Puma, Kate Spade, and Michael Kors.
The Fossil Group also offers bags, wallets, and jewelry in their repertoire — all of which you can find on their official website.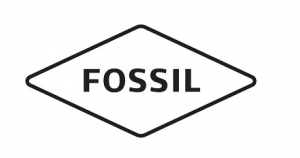 Where Are Fossil Watches Made
Although founded in America, Fossil Watches are typically manufactured in China. However, for their more high-end watches, Fossil also produces watches in their design lab in Switzerland. After manufacture, the watches in China and Switzerland are shipped to the distribution centers in Dallas, Texas, and Germany.
How Much Are Fossil Watches
Fossil Watches aren't exactly luxury watches. Their watches are branded as fashion watches, which focus more on design rather than composition, with most fashion watches using affordable Chinese quartz movements. The typical Fossil watch would cost less than 200 dollars. And even their more expensive smartwatches don't exceed 300 dollars.
They typically offer good value for the prices they have. And a lot of their watches even come with an option for free engraving, which is a good deal. Overall, if you're not a total watch enthusiast but would still love to have a nice-looking and functional watch, Fossil is the way to go, offering good value for the money.
History of Fossil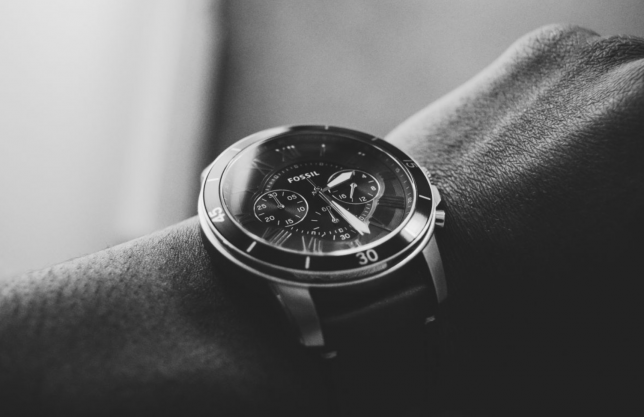 The Fossil Group was founded in 1984 with the intent to produce moderately-priced fashion watches sourced from Asia. In 1989, Fossil decided to add a little spice to their packaging, thus creating their iconic tin boxes which customers loved for the cool graphics on them.
The company began to expand their repertoire in 1992 by launching a line of leather goods targeted at women. In 1993, the company went public and also extended their leather good products for both men and women. Further expansion of their products continued in 1995 with the introduction of sunglasses, no longer limiting themselves to leather goods.
In 1996, the company decided to put their business online, becoming one of the first watch companies to dabble in e-commerce. And in the following year, the company shifted its market to a bigger, international scale. At the turn of the millennia, Fossil introduced a clothing line that was exclusively sold in their physical stores and online. In 2001, Fossil put the focus back to their origins in watchmaking and acquired Zodiac, another watch brand. The company also started producing jewelry in 2007. And on their 25th anniversary in 2009, Fossil decided to launch reissues of their most iconic watches.
Fossil Watches' Best Collections
Fossil prides itself on producing watches that combine timeless design with innovation. Here, we take a look at the best watches under their iconic collections. If you want to see more best-selling watches from Fossil, check out the article we wrote on the 20 best-selling fossil watches for men.
Fossil Grant Series: Grant Chronograph FS4735
First off, we have one of the best-sellers from the Grant collection. The Grant Chronograph Brown Leather Watch is the perfect watch to exemplify the harmonic marriage between the classic and modern look. Because of its simple design and sleek look, it is definitely a versatile watch. It is one you can wear on the daily with your regular plain shirt and washed-out jeans or on special occasions in a formal suit and tie. 
If you are not that familiar with the watchmaking industry, you might find it a little odd that the watch uses "IIII" instead of the Roman numeral for the number four. Don't worry, this is not a defect. It is, in fact, quite common to have four I's instead of an "IV" on clocks or timepieces. Why is that? We're not quite sure. However, rest assured that this beauty is an authentic Fossil watch and not some cheap dupe.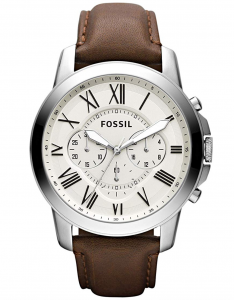 Specs
Size:

44 mm

Movement:

Quartz Chronograph

Strap Material:

Genuine Leather

Strap Width:

22 mm

Water Resistance:

50 m
Fossil Nate Series: Nate Chronograph JR1401
This black stainless steel watch from the Nate series is definitely the watch for those who prefer something bulkier on their wrist. However, despite the size, the Nate Chronograph Black Stainless Steel Watch is not that heavy at all. It's just enough to feel some good weight on that wrist. It's a nice, classy watch, mostly due to its cool and sleek monochromatic design.
Wearers of this watch even mention getting several compliments from people when they wear it. But do be careful when wearing the watch because the glass tends to scratch. If you are particular about scratches on your watch, don't worry too much. There is an easy fix for this. All you need is some alcohol wipes. After using them to wipe the glass, your watch will be back to its pristine condition.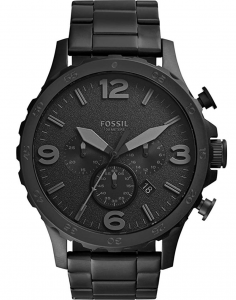 Specs
Size:

50 mm

Movement:

Quartz Chronograph

Strap Material:

Stainless Steel

Strap Width:

24 mm

Water Resistance:

100 m
Fossil Dean Series: Dean Chronograph FS4795
This Fossil watch is definitely a stunner with its stainless steel body with gold accents. The Dean Chronograph Stainless Steel Watch might look like a classy watch (and it is), but it's also the type of watch that wouldn't look out of place even when dressed down. It looks elegant on the wrist and feels good on it too.
Overall, customers are quite satisfied with the watch. But, not all watches are perfect, and if there was something they'd like to improve, they'd probably put more contrast between the dial and the hands to make it less difficult to read.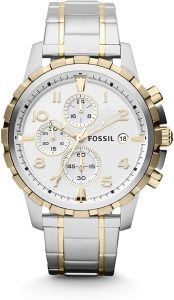 Specs
Size:

45 mm

Movement:

Quartz Chronograph

Strap Material:

Stainless Steel

Strap Width:

22 mm

Water Resistance:

50 m
Fossil Coachman Series: Coachman Chronograph CH2565
With a handsome silver and brown combination, the Coachman Chronograph Brown Leather Watch is stylish and sleek. Its classic look has gotten its wearers many compliments when sporting the watch on their wrist. There is a bit of a downside, though. Some reviewers have reported that the quality of the strap could be better since it tends to scratch.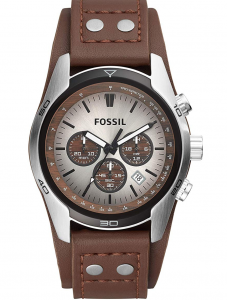 Specs
Size:

45 mm

Movement:

Quartz Chronograph

Strap Material:

Genuine Leather

Strap Width:

22 mm

Water Resistance:

100 m
Fossil The Minimalist Series: The Minimalist Slim Three-Hand FS5305
True to its name,  The Minimalist Slim Three-Hand Light Brown Leather Watch is clean and elegant. It is a watch that could complete any outfit. Users of the watch love the combination between the brown leather and the black case. The details are also quite lovely, with a great contrast between the striking orange second hand and the black dial. This is a watch you can pair with your simplest outfits or most extravagant looks. And if you're not really the bulky watch type, then this lightweight beauty is just for you.
The catch, though, is that it may be uncomfortable to wear at times. Some customers have left reviews stating how the crown of the watch would dig into the skin of their wrist.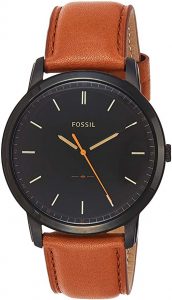 Specs
Size:

44 mm

Movement:

Quartz 

Strap Material:

Leather

Strap Width:

22 mm

Water Resistance:

50 m
Fossil Townsman Series: Townsman Chronograph FS5437
Last but not the least, we'll be featuring the Townsman Chronograph Brown Leather Watch. Despite its simplicity in design, this is quite a stylish-looking watch. The contrast between the black dial and the light-toned hands not only looks great but also makes reading the watch quite easy. The leather is soft and makes wearing the watch a comfortable experience for the user.
Specs
Size:

44 mm

Movement:

Quartz Chronograph

Strap Material:

Leather

Strap Width:

22 mm

Water Resistance:

50 m
Fossil Smartwatches
Aside from the classic watches in the Fossil collections, the brand also offers some affordable smartwatches and hybrids. Let's take a look at some of the best-selling smartwatches Fossil has to offer.
Fossil Gen 5 Smartwatch The Carlyle HR FTW4026
The Carlyle HR Gen 5 Smartwatch brings a completely modern twist to the classic leather watch. It is a simple watch with a sleek and classy dark brown leather strap. The smartwatch is equipped with a handful of handy features. These include GPS, heart rate tracker, activity tracker, music control, and notification.
Overall, people love owning the watch. However, they do wish the battery life would last longer. Some also report encountering some trouble when it came to answering calls. Despite that, it is a watch well-liked and recommended.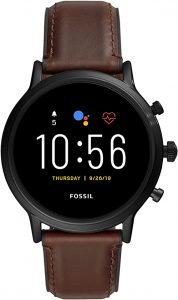 Specs
Size:

44 m

Strap Width:

22 mm

Water Resistance:

30 m

Compatibility:

Android, iOS
Fossil Hybrid Smartwatch Commuter FTW1149
Don't be fooled by its simple and classic look. The Commuter is actually a hybrid smartwatch from Fossil. It has a sleek and classy design with a brown color scheme. Its features include a step counter and a sleep tracker. The watch can also be used to control music or take a photo. This particular watch also comes with an app that allows you to get notifications on your smartwatch such as alerts and alarms.
However, don't expect too much from the app since a lot of users think there is still a lot to improve upon it.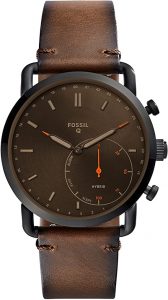 Specs
Size:

42 m

Strap Width:

22 mm

Water Resistance:

5 atm

Compatibility:

Android, iOS
Where to Buy Fossil Watches
Although an American company, Fossil Watches' audience is worldwide. So if you happen to live outside the United States, don't worry. You will still be able to get a hand on your very own Fossil Watch. Fossil has over 500 stores worldwide. So you can check your local directory or search online for the nearest Fossil outlet.
You can also get a Fossil Watch from the convenience of your own home. The Fossil website serves as an e-commerce platform where you can take a look at their available watches and order online. They also sell their watches on Amazon so you can also check that out to compare prices between the watches on their site and their Amazon page.
Fossil Watches Selling Points
Every successful brand relies on its own formula for success. And this includes being consistent in what they deliver and having a set of qualities that sets them apart from other brands. This combination of qualities is what draws people to their brand and brings in customer loyalty. It is what gives them their reputation. For Fossil Watches, their formula for success can be summed up into three qualities: exceptional designs, good quality, and affordable prices. 
Exceptional Design
As a fashion watch brand, you can rely on Fossil Watches to produce trendy and fashionable timepieces. Their watches take the classical look and add a modern twist to it. Fossil Watches are often loved due to their elegant designs. In fact, many positive reviews for Fossil Watches mention satisfied customers getting lots of compliments from wearing their sleek and eye-catching watches. You can bet that many outfits have been completed with the final touch of an elegant Fossil Watch.
Good Quality 
Although mostly a fashion watch brand, Fossil Watches are more than mere accessories. They are well-functioning and well-made watches. Fossil Watches do not easily break, despite not being as expensive as other watches. You can bet that quality was not sacrificed in the process of making a Fossil Watch.
Affordable Prices
Finally, this is perhaps one of the biggest reasons why lots of people flock toward Fossil. The brand offers great value for the prices they have. Typically, Fossil Watches do not exceed 300 dollars. They are affordable yet at the same time good quality. Fossil Watches are the perfect watch for the everyday man. They look great, last long, and won't cost you much.
Final Thoughts
Fossil Watches is a brand that offers quality, well-designed watches at affordable prices. For a brand that has only been around for less than four decades, Fossil was able to make a name for itself not only in America but worldwide. The Fossil Groups offer a diverse set of products under their brands that go beyond watches such as clothing, bags, and jewelry. But Fossil as a fashion watch brand is one that is reliable and accessible to the everyday man. Although not in the same league as European luxury watches, Fossil excels in the field that it is in, offering moderately priced watches of good quality.