Seiko is a popular Japanese watch brand that has adorned the wrist of thousands (or perhaps millions) of people from different walks of life. As a matter of fact, even those who are not into horology have probably heard or owned Seiko watches.
The story behind the brand's claim to fame is definitely intriguing to you right now. To quench your curiosity, find out the history of the famous Seiko by going through our article below.

What is Seiko?
As mentioned above, Seiko is a household name both in and out of the watch community. Apart from mechanical timepieces, they also make affordable quartz models. In fact, they pioneered the production of mass-market quartz watches.
When it comes to innovation, Seiko is one of the leading watch brands. Case in point, they were one of the first ones to produce an automatic chronograph back in the late 60s. Apart from that, they manufacture all of their movements in-house.
Seiko Tuna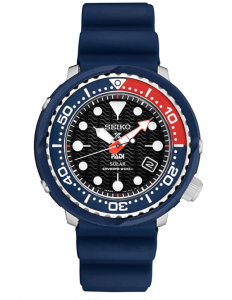 Case: Stainless Steel
Movement: Quartz
Power reserve: n/a
Dimensions: 43.8mm
Water resistance: 200m
Seiko Alpinist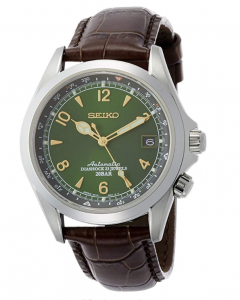 Case: Stainless steel
Movement: Automatic
Power reserve: 40 hours
Dimensions: 39.5mm
Water resistance: 200m
Seiko Presage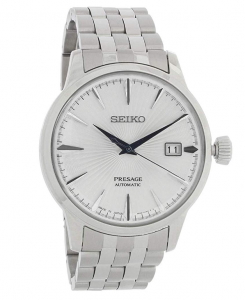 Case: Stainless steel
Movement: Automatic
Power reserve: 40 hours
Dimensions: 40.5mm
Water resistance: 50m
The Roots of Seiko Watches
The history of Seiko dates back to 1881. At this time, 21-year old Kintaro Hattori started a watch and clock repair shop in Ginza, Tokyo. Eventually, in 1892, he established the Seikosha factory. Seikosha means "house of exquisite workmanship" and the brand definitely lived up to its name. In the present day, the Seikosha factory in Sumida Ward, Tokyo, is the Seiko Museum.
Seikosha gradually gained a reputation with its impressive wall clocks. With that, Kintaro wanted to widen the company's horizons by adding pocket watches to their catalog. Since then, their achievements came in.
Seiko Milestones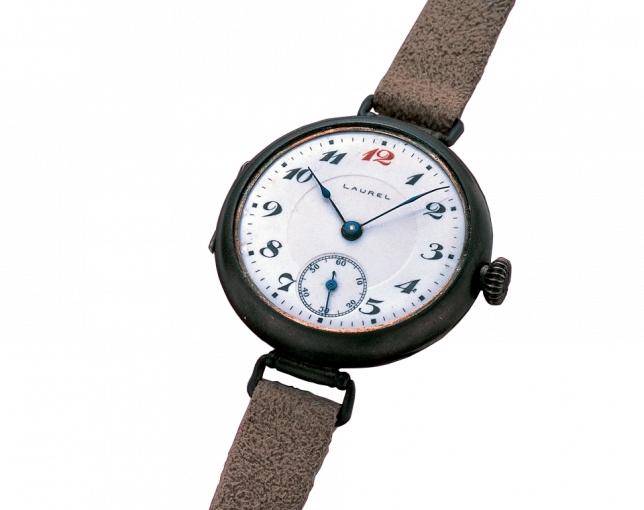 The First Wristwatch in Japan
During the start of the Taisho era, the Japanese mostly used pocket watches. Only a handful of wristwatches were imported to Japan. Being the visionary that he is, Kintaro wanted to step up his game and be the first one to produce Japanese wristwatches.
In 1913, Kintaro proudly launched Japan's first-ever wristwatch called the Laurel. It had a silver case that's 29.6mm in diameter and a porcelain enamel dial. Additionally, they used a 12-ligne movement to power it.
At first, they were able to produce only 30-50 units per day. This was because they had to import the components needed in production. Thankfully, after a few years, they were able to make their own balance springs and enamel dials. This sped up the production.
Seikosha Became Seiko
In 1923, the Great Kanto Earthquake hit Japan. Unfortunately, among the casualties was the Seikosha factory. Although the damage was intense, Kintaro was determined to rebuild his company.
One year later, the company had created a new watch under the name Seiko. It was a big thing for Kintaro to still opt for a non-English name for his watches. This meant that he was confident enough that his watches would sell during a time when timepieces from the west were considered superior.
The Official Railway Watch
Before, the staff in Japanese railways still used foreign watches such as Omega, Zenith, and Waltham. That was up until November 1929 when Japan National Railways appointed Seiko as their official supplier.
Seiko has proven to be accurate enough to be placed on the trains' consoles. During that time, it was considered a very impressive feat as accurate timing was crucial to avoid accidents.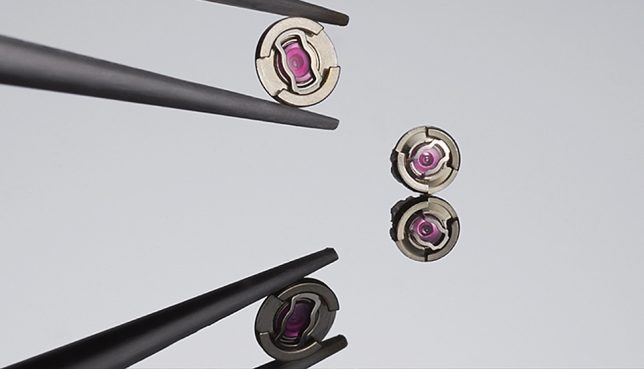 The Start of Shock-Proof Seikos
It's inevitable for users to drop their watches. With this in mind, Seiko introduced the Diashock in 1956. It is a shock-resistance device that protects the watch's most vulnerable parts. Additionally, it reduces friction to guarantee the balance wheel's optimum amplitude.
Seiko's First In-House Watch
The Seiko Marvel is considered as the brand's first wristwatch that's made fully in-house from scratch. Meaning, the movement used was in no way influenced by other movements in Switzerland, etc.
This model was produced until 1959 when an upgraded version took its place. Its successor, the Seiko Gyro Marvel, was equipped with the brand's "Magic Lever" mechanism which made winding more efficient.
Up to this day, Magic Lever is still being used in Seiko's self-winding watches. To add to that, it is one of the reasons why self-winding watches became popular.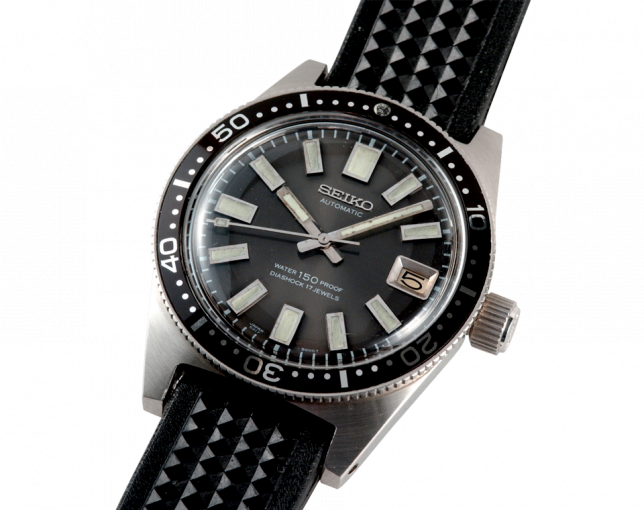 The First Japanese Dive Watch
In 1965, the Japanese thought it was about time to create their own dive watch. So in 1965, they introduced the Seiko Diver's 150m. Based on its name, it has a water resistance of up to 150 meters. To help withstand high water pressure, its crown was designed with a double packing structure.  
This watch was used in the 8th Japanese Antarctic Research Expedition.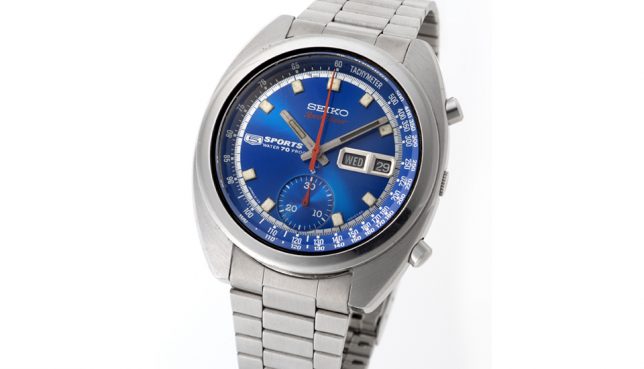 Seiko Introduced the Cal. 6139
Dive watches weren't Seiko's only strong suit. They also made good chronograph watches. In fact, they produced the first-ever automatic chronograph watch that's equipped with both the vertical clutch and the column wheel.
This watch marked the beginning of Seiko's excellence in making chronograph watches.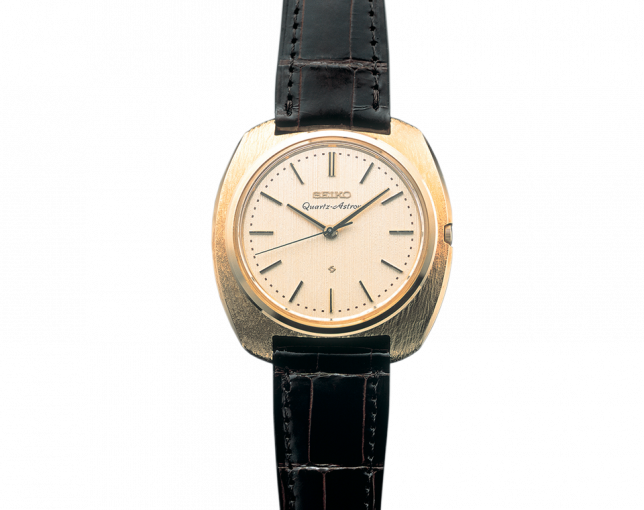 The Introduction of Quartz Watches
Yes, the Quartz Revolution started because of Seiko. On Christmas day of 1969, the brand introduced the world's first quartz watch called the Seiko Astron. During that time, it was a watch unlike no other.
Its Caliber 35A movement had an impressive accuracy of +/- 5 seconds per month. It was 100 times more accurate than mechanical watches. Apart from that, it could run continuously for a year.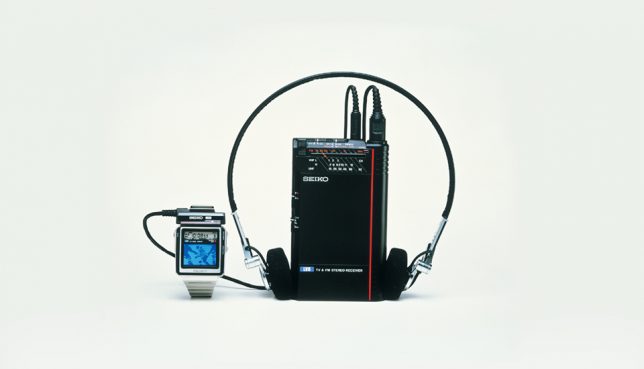 First-Ever TV Watch and Voice Recording Watch
Kids from the '80s impressed their friends with a watch with a built-in TV screen. The Seiko TV watch was designed with a headphone jack and a tuner so that you can watch TV with your pals anywhere. But that's not all. It also has an FM radio and other common watch functions like chronograph, calendar, and alarm.
In the 1984 edition of Guinness Book of Records, the Seiko TV watch was regarded as the smallest TV set in the world.
Apart from that, the 1982 Seiko TV watch might be familiar to you especially if you're a movie buff. It appeared in the James Bond film called Octopussy.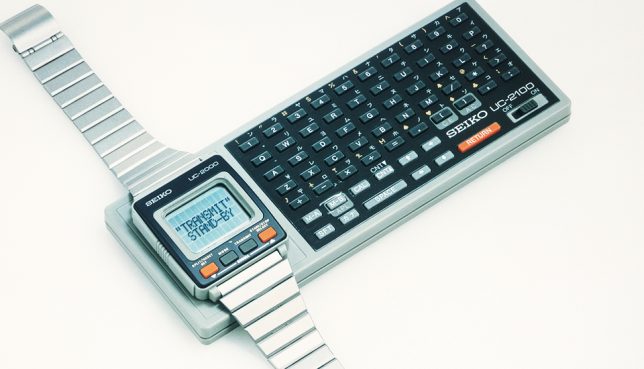 World's First Watch with Computer Functions
Seiko proves again that they are superior when it comes to horological technology. Shortly after launching the TV watch, they created the world's first watch that features computer functions.
The watch has the capacity to store up to 2,000 characters. Aside from that, it can also store telephone numbers, addresses, and a schedule for up to one month. During that time, this watch was truly like no other.
These are just some of the milestones and innovations that Seiko has contributed to the world of horology. Without a doubt, Seiko watches deserve the respect and admiration that they have been receiving.
The Different Lines of Seiko Watches
To make it less confusing, Seiko watches are divided into different categories or collections. Here are the different Seiko lines and what they're famous for.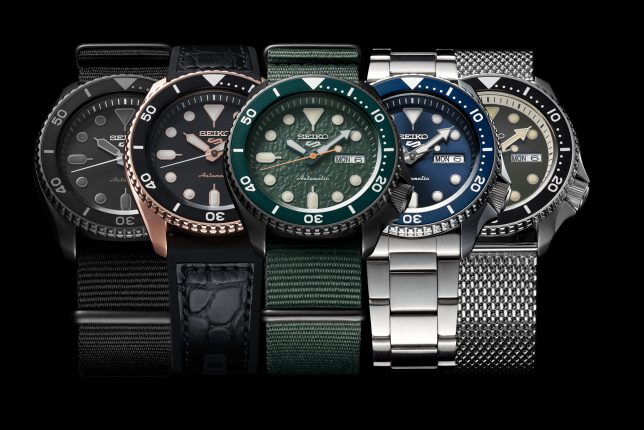 Seiko 5
The Seiko 5 line is the brand's entry-level collection of automatic timepieces. These Seiko watches appeal to the adventurous audience as they are known to be durable and affordable at the same time.
Each Seiko 5 watch should have the following characteristics:
It should have an automatic movement.

The day and date functions should be displayed in a single window.

It should be water-resistant.

The recessed crown should be at the 4 o'clock position.

Its bracelet and case should be durable.
With that said, the Seiko 5 watches are perfect for people who are getting into mechanical watches. These are also ideal for those who want a no-frills watch that can stand the test of time.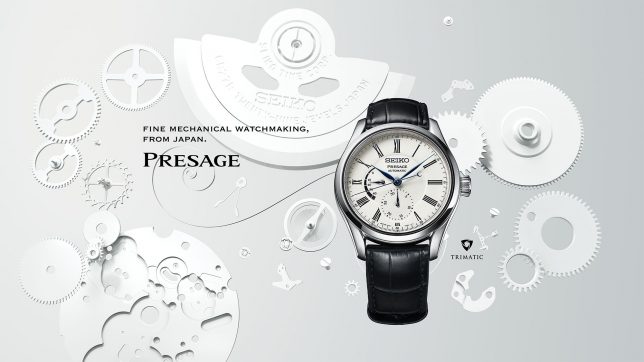 Seiko Presage
The Seiko Presage line is the most elegant set of Seiko watches. As some people would say, the watch is a combination of minimalist Japanese aesthetic and excellent watchmaking.
The Presage is divided into more lines. But all of the models under those exhibit clean and elegant dials. The Cocktail, for example, has a dazzling colorway with simple indexes as hour markers.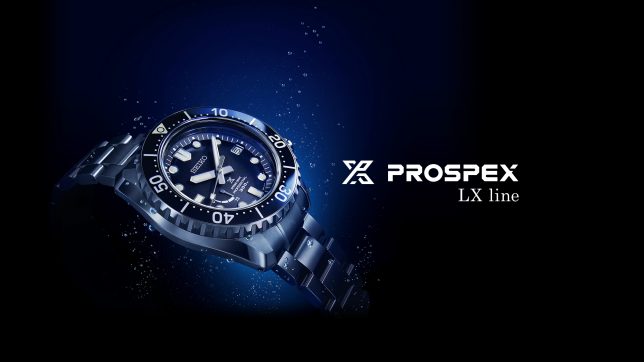 Seiko Prospex
If a tool watch is what you want, look no further than the Seiko Prospex collection. I'm sure a lot of professional divers and adventure seekers will appreciate the watches that belong to this category. Indeed, the name Prospex is a contraction of the words "professional specifications".
This line is further divided into four collections: Land, Sea, Sky, and Street. As their names suggest, each of the collections has its own strengths. For example, the Sea is good for diving. Meanwhile, the watches under Land have features that are useful for hiking or camping.
The Prospex is more expensive than the Seiko 5 series. However, the upgrades make it worth the money.

Seiko Recraft
If you're into vintage watches, you'll definitely like the Seiko Recraft series. As its name suggests, this collection revives old models. They turn them into something new. 
You don't have to worry about its features. While the exteriors of these Seiko watches are old-school, their interiors are definitely up-to-date. 
Luckily, this collection is vast and you have a lot of cool retro-inspired watch models to choose from.
Which Seiko Watch is Right for You?
There are a lot of Seiko watches on the market right now. In fact, the brand has one of the most massive catalogs. To add to that, its price point varies greatly, too. If you need a guide in shopping for Seiko watches, here are a few models that stand out from the rest.
If you like diving:
When you say Seiko watches, people often picture dive watches. It is undeniable that this Japanese brand produces the most affordable mechanical divers. Indeed, there are plenty of fish in the sea, but here are some of the best divers that you should check out.
Seiko SKX009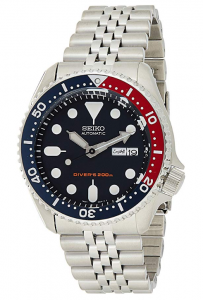 Seiko SKX009 Specs
Case: Stainless steel
Movement: Automatic
Power reserve: 40 hours
Dimensions: 42mm
Water resistance: 200m
Why is it good?
I assure you that a list of best dive watches will not be complete without the Seiko SKX009. It's a given that this classic model is affordable. But that's not the only reason people love it. The most important factor is that it meets the standards of the ISO 6425 certification.
Finally, it has an attractive design that appeals to a wide audience. Whether or not you're a watch fanatic, the Seiko SKX009 will definitely make heads turn. Its blue and red accents complement each other well. Kudos to its designer!
Seiko Tuna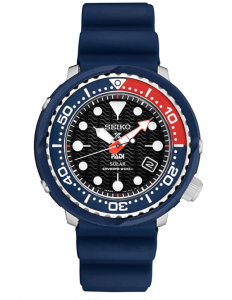 Seiko Tuna Specs
Case: Stainless Steel
Movement: Quartz
Power reserve: n/a
Dimensions: 43.8mm
Water resistance: 200m
Why is it good?
A real-life tuna may not be scary. But that doesn't mean you should underestimate the Seiko Tuna. This watch is popular for its very distinct cylindrical shape. If you come to think of it, it resembles a can of tuna, where it got its name.
At 200m water resistance, this watch will definitely withstand all the pressure it will go through. Additionally, the watch's hands and hour markers are applied with LumiBrite. This means that the watch will glow a bright green so that it is easy to read the time underwater.
If you're a serious diver, it is worth your while to check out this watch.
Seiko Turtle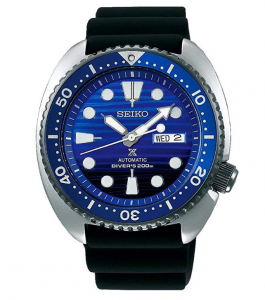 Seiko Turtle Specs
Case: Stainless steel
Movement: Automatic
Power reserve: 41 hours
Dimensions: 44.5mm
Water resistance: 200m
Why is it good?
Another classic in the dive watch category is the Seiko Turtle. It was nicknamed such because its large cushion case will remind you of a shell of a turtle.
However, the case is not for aesthetics only. The flanks are there to protect both the case and the crown. This is extremely useful as you don't want to ruin your watch while diving.
When it comes to the movement, it is powered by the 4R36 caliber. It gives the watch a power reserve of 41 hours and a beat rate of 21,600.
Seiko Monster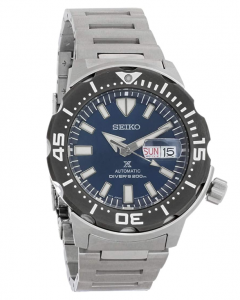 Seiko Monster Specs
Case: Stainless steel
Movement: Automatic
Power reserve: 41 hours
Dimensions: 42.4mm
Water resistance: 200m
Why is it good?
One look at the Seiko Monster will convince you that it can handle the extremes. Its chunky and robust design was built like a tank.
Its dial is protected by Hardlex crystal. This makes it resistant to scratches in case you accidentally bump it into rocks underwater. Apart from that, this watch is also fitted with a reliable and accurate movement. You wouldn't have to worry about miscalculations while underwater.
The Seiko Monster offers durability and functionality at a very affordable price range. This makes it an ideal dive watch for people who need an affordable timepiece that will manage to take a few bumps.
Seiko Samurai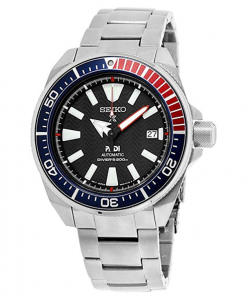 Seiko Samurai Specs
Case: Stainless steel
Movement: Automatic
Power reserve: 41 hours
Dimensions: 44mm
Water resistance: 200m
Why is it good?
Last but not least, we have the Seiko Samurai. This watch was not named after Japan's noble military men for nothing. In fact, an interesting detail about this watch is that the hour and minute hands look like swords.
The Samurai's build quality is top-notch. Apart from that, it uses a 4R35 movement. This movement has hacking and self-winding functions. Finally, the lume is bright enough to keep it legible in the dark.
If you want a dive watch that is durable and attractive at the same time, this is it. Finally, its affordable price tag is like icing on the cake.
If you like going outdoors:
The previous Seiko watches are for people who love going underwater. But for those who love exploring by land, here are some of the top field models you should check out.
Seiko SNK803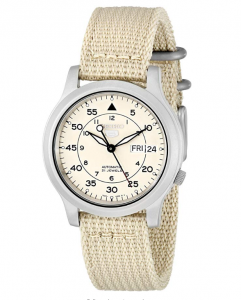 Seiko SNK803 Specs
Case: Stainless steel
Movement: Automatic
Power reserve: 40 hours
Dimensions: 37mm
Water resistance: 30m
Why is it good?
Among the automatic Seiko watches, the SNK803 is one of the cheapest. In spite of its affordable price tag, this watch acts like it costs a million bucks. It is durable, easy to read, and tells accurate time.
When it comes to aesthetics, the SNK803 boasts a military and retro design. It has a simple dial that is both legible and versatile. With that in mind, this watch is like a chameleon which will blend well with a lot of outfits.
Meanwhile, its nylon strap is comfortable enough for daily wear. If you want a mechanical watch that's a bang for your buck, this one is hard to beat.
Seiko Alpinist SARB017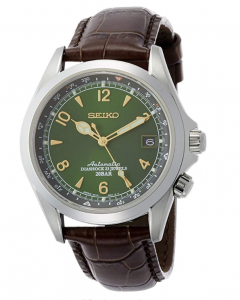 Seiko Alpinist SARB017 Specs
Case: Stainless steel
Movement: Automatic
Power reserve: 40 hours
Dimensions: 39.5mm
Water resistance: 200m
Why is it good?
A lot of watch enthusiasts know that the Seiko Alpinist SARB017 is a cult classic. For its price, you get a hacking movement and a synthetic sapphire to protect the case.
Apart from wearing it to outdoor activities, you can also wear it during more formal occasions. Indeed, it will not look out of place with a sport coat or blazer, thanks to its olive green dial and brown crocodile leather strap. The 39.5mm case is also a perfect size for fitting under a dress shirt cuff.
The Seiko Alpinist SARB017 is one of the best all-around Seiko watches. This model is ideal for people who need a watch they can wear outdoors. But at the same time, a watch that can easily be dressed up.
Seiko SNE329
Seiko SNE329 Specs
Case: Stainless steel
Movement: Solar-powered Quartz
Power reserve: n/a
Dimensions: 43mm
Water resistance: 100m
Why is it good?
The biggest advantage of the Seiko SNE329 is its readability. With that said, you will never have a hard time reading its large Arabic numerals. Additionally, the hour markers are painted in white that contrasts well against the black dial.
Its hour and minute hands are both applied with lume. This will allow you to read the time even during the dark.
Another unique thing about this watch is that it is solar-powered. This is advantageous for people who hate changing the batteries of their watches every now and then.
Seiko 5 SNZG
Seiko 5 SNZG
Case: Stainless steel
Movement: Automatic
Power reserve: 40 hours
Dimensions: 42mm
Water resistance: 100m
Why is it good?
The Seiko 5 SNZG is a lot like the Seiko SNK803. But the difference is that the SNZG sports a bigger case diameter of 42mm. Aside from that, it has a two-tone dial. To further explain, the minute train has a darker background.
While a lot of Seiko field watches have the crown at 4 o'clock, this one has it at the 3 o'clock position. The positioning of the crown is good for people who do not want to stray from the usual. As most watches, even the non-Seiko ones, have it at the 3 o'clock position. 
This watch is great for people who are looking for a military-inspired timepiece that won't break the bank.
If you love suiting up:
The previous Seiko watches are best for the outdoorsy type. But if you need a timepiece that will go well with your office attire, these dress watches are hard to beat. Seiko also knows how to be elegant when the occasion calls for it.
Seiko Presage Cocktail Time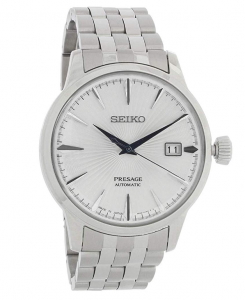 Seiko Presage Cocktail Time Specs
Case: Stainless steel
Movement: Automatic
Power reserve: 40 hours
Dimensions: 40.5mm
Water resistance: 50m
Why is it good?
The Seiko Presage Cocktail Time was a collaboration with Japanese bartender Ishigaki Shinobu. Based on its name, you might be guessing that the watch was inspired by cocktails. And you're right for thinking that.
Its guilloche dial is elegant and classy. At a bar, you are sure to make heads turn to your wrist. Meanwhile, its hour markers and hands are sharp and slim. They blend perfectly well with the whole dial's classiness.
The Seiko Presage Cocktail Time is one of the most bang-for-buck dress watches around.
Seiko SNKK52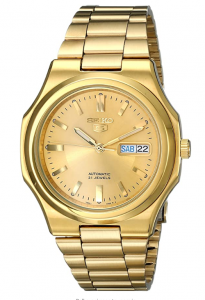 Seiko SNKK52 Specs
Case: Stainless steel
Movement: Automatic
Power reserve: 40 hours
Dimensions: 35.5mm
Water resistance: 30m
Why is it good?
A lot of people dub the Seiko SNKK52 as a "poor man's Rolex Day Date". True enough, its aesthetic is comparable to the latter. It has roughly the same size (the Day Date is at 36mm while the SNKK52 is at 35.5mm) and it comes in a gold colorway.
However, its angular case gives it its own personality. So if you want a fancy dress watch that will catch people's attention, this is it.
Final notes
There is no doubt that Seiko watches are hyped up in the watch community. And the hype that the brand receives is well-deserved. They offer high-quality watches with attractive designs. All while keeping the price tag affordable.
Seiko has a wide array of models to choose from. That's why I'm certain that there's a Seiko model out there for each and every watch collector.
Interested in more high-quality but affordable watches? Check out our Fossil brand guide!