When one thinks of Casio, a few things come to mind. A mathematician or engineer would think of their handy Casio calculator sitting atop their desk. A pianist, on the other hand, would think fondly of the times their fingers have graced the keys of a Casio electronic keyboard. And for the watch lover, of course, who would not know of the iconic Casio Watches G-Shock?
With such a diverse collection of products, what is the secret to Casio's success? What can one expect when faced with a Casio watch? In this review, we'll take a look at the history of the Japanese electronics giant and the watches that make them who they are.
Casio Watches Bestsellers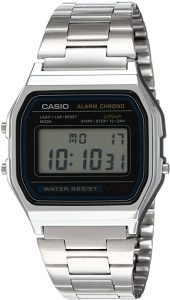 Size: 33 mm
Movement: Quartz
Strap Material: Stainless Steel
Strap Width: 18 mm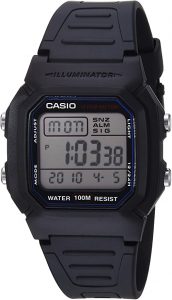 Size: 37 mm
Movement: Quartz
Strap Material: Resin
Strap Width: 17 mm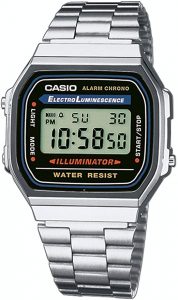 Size: 32 mm
Movement: Quartz
Strap Material: Stainless Steel
Strap Width: 18 mm
About Casio
A familiar name in households everywhere, Casio has been around for over half a century producing various consumer electronics. Their corporate philosophy centers around creativity and contribution. It is their goal to contribute to society by offering original and innovative ideas and solutions through their products.
The multinational Japanese corporation has a diverse collection of products that include watches, calculators, electronic musical instruments, and digital cameras.
For this article, we will take a look at the company's general history before diving into Casio Watches specifically. 
History of Casio

A Family of Innovators
Although the company, Casio Computer Co., Ltd., was officially established in June 1957, its history actually dates back to 1946. The company has four founding brothers: Tadao, Toshio, Kazuo, and Yukio Kashio. Tadao, the eldest of the Kashio brothers, put up his own business, Kashio Seisakujo, in April 1946 after gaining experience in the processing of parts and earning a reputation for himself. The business was a small subcontractor factory and it mostly produced microscope parts and gears. 
While Tadao was busy running his own factory, the second Kashio brother, Toshio, was gaining much electrical knowledge and skill as a technician. Now, Toshio had always been a creative and innovative child. He even claimed to his family that he would one day become an inventor like Thomas Edison, whom he admired. Despite doing well at his workplace, Toshio decided to quit and join his older brother to fully test his ability to innovate. 
The Calculator That Started It All
Together, the brothers were able to create the world's first compact all-electric calculator. They decided to unveil their prized invention in 1956 to a panel of possible investors. The brothers, however, encountered a major problem. At the airport, they were told that the calculator exceeded the allowable size, and were asked to detach the top part which had the display and keys.
Despite protests, the brothers had no choice but to do so in order to load their product on the plane. Upon landing, they tried to put it back together, but to their dismay, it was already irreparable. They had no choice but to proceed with the presentation with a non-functioning prototype. This, of course, did not end well.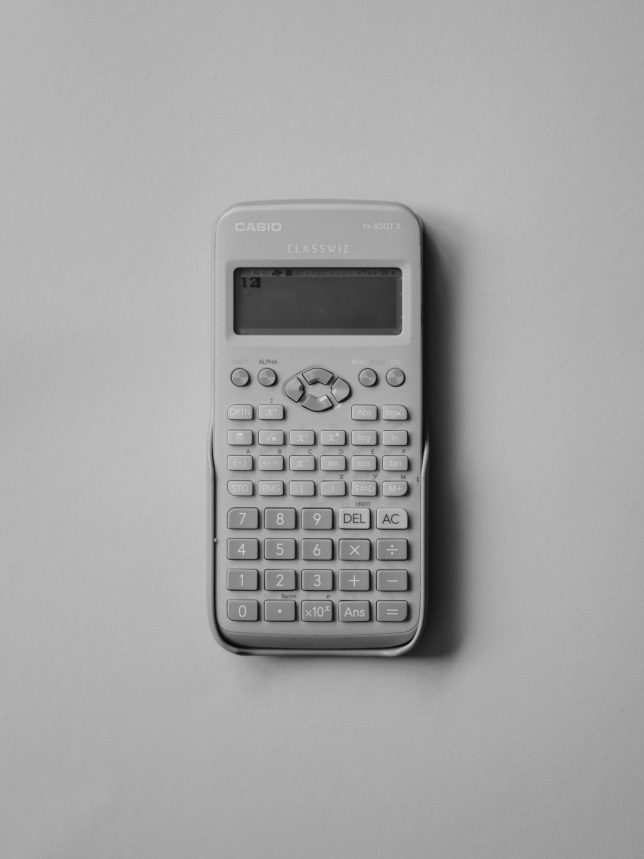 They went home dismayed. However, good news was soon to come their way. A representative from Uchida Yoko Co., Ltd. decided to pay them a visit to see their calculator. Now, the company had already conducted business with Kashio Seisakujo so they already had much trust and confidence in the abilities of the Kashio brothers. The brothers signed a contract with the company, making Uchida Yoko the official and exclusive dealer of the calculators. In June 1957, Casio Computer Co., Ltd. was established with the Kashio patriarch standing as the president. 
Now, each of the four brothers played into their own skills to contribute to the company. Tadao handled finances; Toshio, the inventor, rightfully handled product development; Kazuo, the third brother, focused on sales; and the youngest, Yukio, looked after production. With each brother taking on a specific role, the company was able to grow in harmony.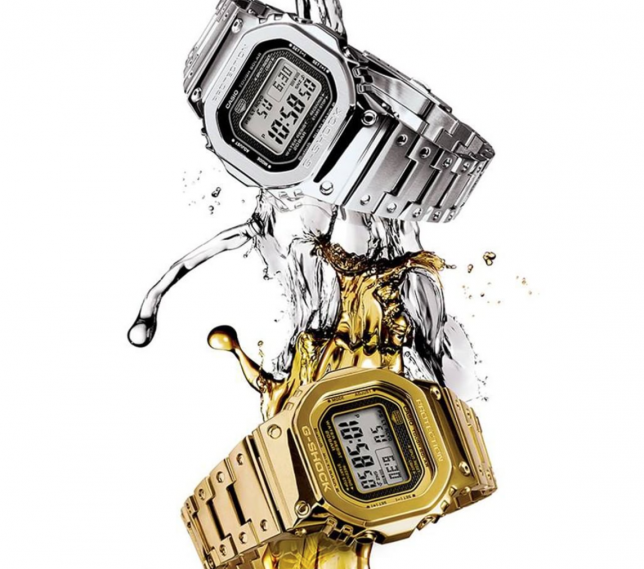 Pushing the Limits of Innovation
The company soon began to grow, reaching a global audience. And with its growth came continuous innovation. For example, in October 1967, the company released the world's first desktop electronic calculator with program. And a few years later, they also produced the CASIO Mini, the world's first personal calculator. The company also expanded its product list by producing electronics outside of their signature calculators.
In 1971, they were able to produce an electronic inkjet typewriter. Three years later, they unveiled the Casiotron, the company's first electronic wristwatch. From a company that sold calculators, the Casio brand soon became diverse, offering a wide array of products including electronic musical instruments, digital cameras, printers, and many more.
Casio Watches Legacy
What is Casio Watches known for? Well, Casio has a reputation for producing durable digital watches. As an electronics-centered company, Casio doesn't really produce traditional, mechanical watches, unlike most watch brands. Its watch collections include various types of digital watches, one of which is the iconic G-Shock series. Casio, true to its roots, also produces the classic calculator watch. 
Casio, through the years, has gained the trust of the market. Many consider it to be quite a reliable brand, with durable yet affordable watches. You can even see Casio Watches on your favorite fictional characters on screen and famous real-life celebrities. For example, iconic characters from movie franchises such as Mission Impossible and Back to the Future sport Casio Watches on their wrist. And even billionaire, Bill Gates has been spotted wearing a Casio Watch.
Where Are Casio Watches Made
Casio is a Japanese electronics company with its headquarters based in the country's capital, Tokyo. However, Casio has several factories located all over Japan for the production of their different electronic products, including their digital watches.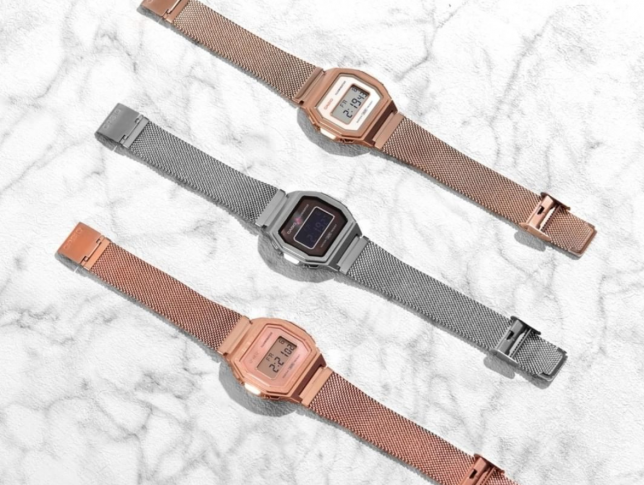 Casio Watches' Best Collections
Through its almost half a century run, Casio Watches has produced several watches under different collections. Here, we take a look at five of the brand's most notable collections and the best watches that represent them.
Casio G-Shock
The Casio G-Shock is a watch designed to withstand even the greatest abuses. It was born out of a concept of "creating a watch that never breaks". The road to creating the first G-Shock was one paved in broken parts…literally.
Over 200 prototypes were tested and destroyed before finally achieving the desired level of toughness and resilience found in the first G-Shock in 1983. The G-Shock typically houses seven elements which consist of mechanical shock resistance, electric shock resistance, water resistance, gravity resistance, vibration resistance, low-temperature resistance, and toughness.
This collection is perhaps the most famous out of the Casio Watches series because of its reputation for being the toughest watch you can have. The G-Shock is especially favored by military men and athletes since not only can the watch survive the rough conditions their lifestyles entail, but it also houses cool functions that come in pretty handy.
Casio Men's G-Shock DW5600E-1V
For quite an inexpensive watch, the Casio Men's G-Shock DW5600E-1V has incredible durability. Unlike the usual G-Shock watches, it isn't as bulky and is quite simple and sleek, in terms of design. It sports a classic 80s look as this series was originally released in 1987. This is a watch that can surely take a beating. Whether it be normal day-to-day scuffing or intense military training, this watch can surely survive it all.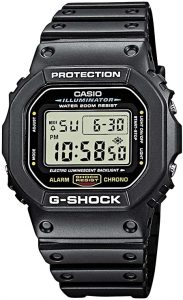 Specs
Size: 45 mm
Movement: Quartz
Strap Material: Resin
Strap Width: 26 mm
Water Resistance: 200 m
Casio Pro Trek
Made for the outdoors, the Casio Pro Trek Smart is the ideal watch for the adventurous explorer. Its cool features that include GPS, Moment Setter, and Location Memory are what make this collection the perfect watch to bring on any adventure. It is also equipped with Casio's Triple Sensor Technology, which offers precision in terms of measuring direction, height, temperature, and pressure. The watch is also water-resistant and has a built-in altimeter and barometer.
Casio Men's Pro Trek WSD-F20A-BUAAU
Part of the Casio Pro Trek line of smartwatches, this piece is a smartwatch for the outdoors. The watch comes with GPS, a full-color map display, and can even access map data offline. It also has other cool features that would be totally useful in the outdoors such as an altimeter, barometer, digital compass, and an activity tracker.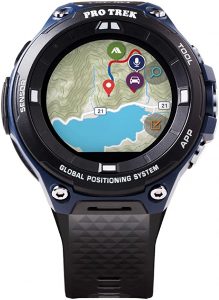 Specs
Size: 52 mm
OS: Wear OS by Google
Strap Material: Resin
Strap Width: 30 mm
Water Resistance: 50 m
Casio Edifice
Unlike the two previous collections which are made for the outdoors, the Casio Edifice is better suited for those looking for a more professional look. This collection holds stylish and sleek designs that are perfect for both the suited businessman and the casual, average guy. It has a bunch of cool features like world time, alarms, and multi-layered dials.
Although not nearly as tough as the G-Shock, you can still be assured that the Edifice line is made of strong yet comfortable materials. It is a watch for the modern, sophisticated man. The watch has additional functions such as a button you can rotate to send a signal to your phone whenever you need to locate it. It also simultaneously shows your local time and the world time, and even has an am/pm feature.
Casio Men's Edifice EF527D-1AV
Nice and sleek, the Casio Men's Edifice EF527D-1AV merges comfort, style, and intelligence. It has a rotating slide rule which ensures precise measurements and calculations of time, speed, and even fuel consumption. This Edifice watch is sturdy and comfortable. It is the perfect marriage of form and function.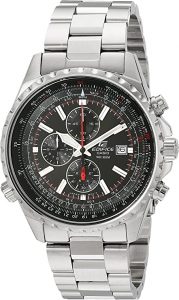 Specs
Size: 45.5 mm
Movement: Quartz
Strap Material: Stainless Steel
Strap Width: 22 mm
Water Resistance: 100 m
Casio Baby-G
Let's not forget about the woman on the go. The Baby-G was created in 1994 as a female counterpart to the G-Shock. Both fashionable and functional, the Baby-G holds the same functions as the G-Shock, such as shock resistance and water resistance, while having a vibrant color palette and nice designs. The Baby-G watches are durable and beautiful, perfect for the active woman.
Casio Ladies' Baby-G BG169R-7A 
Clean and beautiful with its all-white look, the Casio Women's Baby-G BG169R-7A merges style with function. It is the perfect watch for everyday use as it would pair well with any outfit and is also quite durable. The watch is quite comfortable to wear and also very easy to clean and set up.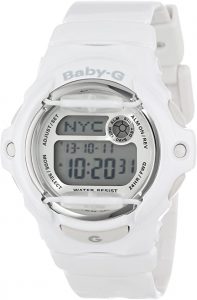 Specs
Size: 42.6 mm
Movement: Japanese Quartz
Strap Material: Resin
Strap Width: 20 mm
Water Resistance: 200 m
Casio Wave Ceptor
Finally, we have the Casio Wave Ceptor. The Wave Ceptor boasts of its accuracy that is as precise as one second in millions of years. It works by receiving radio signals and synchronizing with atomic clocks from different parts of the globe, ensuring the most accurate time. The Wave Ceptor line is also solar-powered and contains a rechargeable battery with a lifespan of about 10 years.
Casio Men's Wave Ceptor WV58DA-1AV
The Casio Men's Wave Ceptor WV58DA-1AV is equipped with a few cool functions such as world time, a countdown timer, 1/100 second stopwatch, and an EL backlight with Afterglow. The time and date reset daily to ensure accuracy. It's nice and elegant and isn't that hard to use.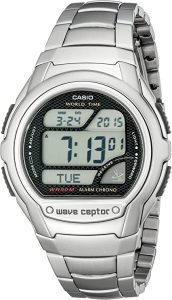 Specs
Size: 44 mm
Movement: Quartz
Strap Material: Stainless Steel
Strap Width: 24 mm
Water Resistance: 50 m
Where to Buy Casio Watches
As a multinational corporation, Casio Watches has store locations all across the globe. You can check for online store locators for your particular country or simply Google the nearest Casio Watches retailer to you. But as a prominent brand, you are likely to find Casio Watches in your local department stores or malls.
If you are looking for a particular Casio Watch to purchase, your local store might not have stock for that specific watch. So you can also go online and purchase Casio Watches on Amazon.
It is also important to note that Casio Watches are cheaper when you purchase them in Japan. What is the reason for this cost reduction, you may ask? Well, it is mostly due to Japan's tourism. To promote tourism in Japan, several duty-free stores are located across the country. And these stores do not impose the added 8% consumption tax on their products, making the watches cheaper compared to other countries.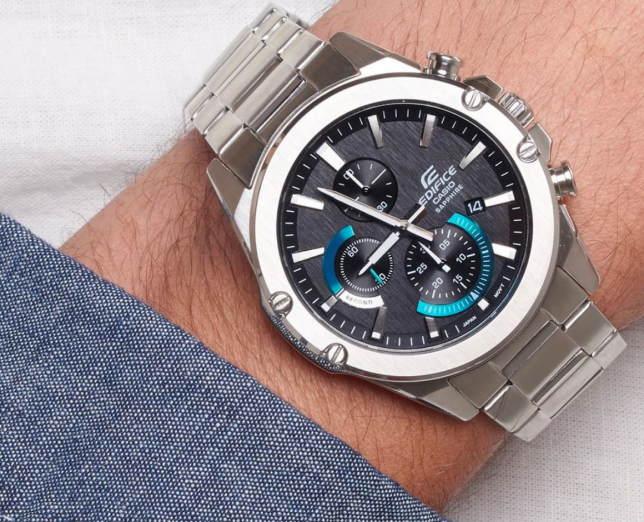 Casio Watches' Selling Points
The success of a brand depends on the consistency of what they have to offer. This builds a reputation for the brand which allows people to immediately think of certain things when that particular brand is mentioned. Certain selling points become associated with the name. And each company banks on showcasing their unique strengths to become successful. But the overall success of a brand does not rely on individual traits but on the combination of selling points that make the brand what it is. For Casio Watches, we believe their strength as a brand center around their durability, inexpensiveness, and reliability.
1. Durable Watches
Casio Watches are definitely known for producing extremely durable watches, especially the Casio G-Shock series. In fact, the G-Shock was even awarded a Guinness World Record for surviving being run over by a 25-ton truck, which no other watch has survived. That is the testament of the sheer durability of the watch. And even their normal digital sports watches are designed to withstand harsh environments, rough sports, and even rigorous military training. And for regular use, Casio Watches can last for several years. Many even still own and use Casio Watches from the'80s.
2. Affordable Prices
Another thing Casio Watches are known for is having several inexpensive watches. You can purchase many watches from Casio for just under a hundred dollars. In fact, you can even get a Casio watch for as low as 20 dollars. They're incredibly affordable and because of their durability, you know that their cheap prices do not equate to cheap quality. 
3. Trusted and Reliable
Casio Watches is definitely a brand you can trust. Even billionaires and famous celebrities who could definitely afford luxury watches go for the reliable Casio watch. It's the perfect go-to watch for the military man, sports enthusiast, and ever your average Joe.
It's so reliable that Casio Watches have become accessories for the male protagonist in a few action movies. Now, this may not seem much, but the wardrobe for every film is always well thought out. Every item of clothing and accessories each character adorns reflect their personality and lifestyle. And for the hero of the story doing several stunts and surviving many feats, a durable watch is essential to match their rough lifestyle. So for Casio to be the watch of choice of the action star definitely shows how trusted and reliable the brand is.
Final Thoughts
The company started with innovation and since then, has not ceased to deliver innovative ideas and solutions in the products they make. Casio Watches, in particular, offers quality and durability at incredibly affordable price points. The brand has built a reputation for itself, becoming a household name well-loved and trusted. Casio Watches is the epitome of reliability with watches whose durability and quality have stood the test of time. Although far from a luxury watch brand, Casio is undoubtedly a good and reliable watch brand.
For more affordable digital watches, check out our article on the best digital watches under $100.