Mention the word 'Hamilton' and a lot of people would immediately think of the hit Broadway musical production. But before all of that, Hamilton was a name people constantly saw on the big screen, on many actors' wrists. Known as the Movie Brand, Hamilton Watches has quite the legacy. It's been around for over a hundred years and has made quite a name for itself in the watchmaking industry.
Let's take a look at the history and legacy of Hamilton Watches and see what exactly they have to offer in horology.
About Hamilton Watches
Hamilton Watches centers around the marriage of American spirit and Swiss precision. Although the company's headquarters are currently located in Bienne, Switzerland, its origins actually trace back several miles away in Lancaster, Pennsylvania.
The brand consistently offers unique, versatile, and fashionable watches at mid-range price points. But the true essence of the Hamilton Watch Company can actually be described in 'three Ps': pioneering, practical, and precise. These 'three Ps' have contributed to the several milestones the company has achieved throughout its history.

History of Hamilton Watches
Despite being a Swiss watch manufacturer, Hamilton Watches, at its core, holds the vibrant American spirit. The company was founded in Lancaster, Pennsylvania, in 1892 and has made the all-American city its home for over a hundred years.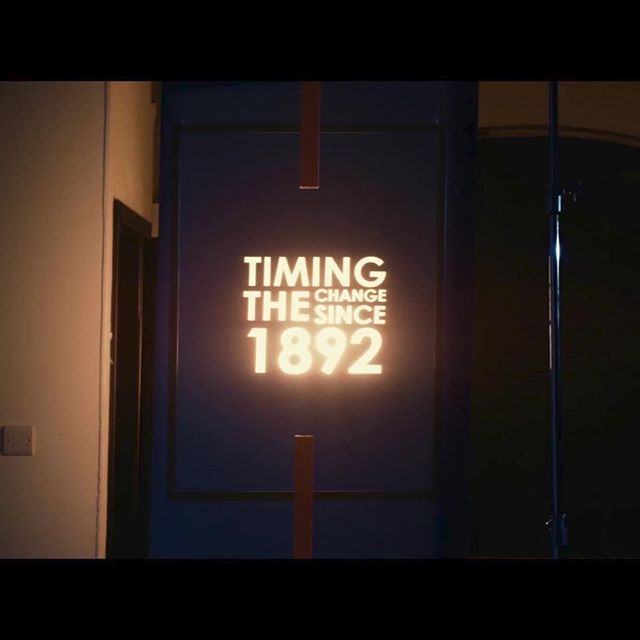 Within its century run in the United States, the Hamilton watch has accompanied the American citizen through different stages of industrialization — from railroads to aviation. In fact, its first series of pocket watches was called "The Watch of Railroad Accuracy" and was introduced to the public in 1912.
Six years later, Hamilton Watches would find its way on board the first-ever U.S. airmail service, which traveled from coast to coast. Another first would make its way to Hamilton Watch history with the release of the Ventura in 1957. The Ventura was the world's first battery-powered electrical watch. Some years later in 1970, Hamilton would create yet another groundbreaking watch. This watch, named the Pulsar, was the world's first digital watch with an LED. 
In 1974, a big change would come to the Hamilton Watch Company. The Swatch Group, then known as Société Suisse pour l'Industrie Horlogère prior to the merger, bought the watch company. Swatch Group is an international group comprising several companies that focus on the manufacture and sale of watches and jewelry. Some watch brands under the group's care include Tissot, Omega, and Calvin Klein. The company experienced yet another major shift in 2003 when it moved its headquarters from Pennsylvania to Bienne, Switzerland.
Hamilton Watches' Legacy
Hamilton Watches have played a major role in different scenes — from railroads to aviation to the big screen. As mentioned before, Hamilton Watches released "The Watch of Railroad Accuracy" back in the early 1910s. This series of pocket watches gained that name since train workers would use these pocket watches to synchronize the timing on the rails. Having synchronized and correct timing was very important since even the slightest deviations in timing could result in accidents.
From railroads on the ground, Hamilton Watches soon took to the air as the aviation industry began to bloom. We've mentioned already how Hamilton Watches joined the U.S. airmail service, keeping delivery on time. However, their involvement in aviation does not stop there. In fact, the brand holds the title of official timekeeper for the Red Bull Air Race World Championships.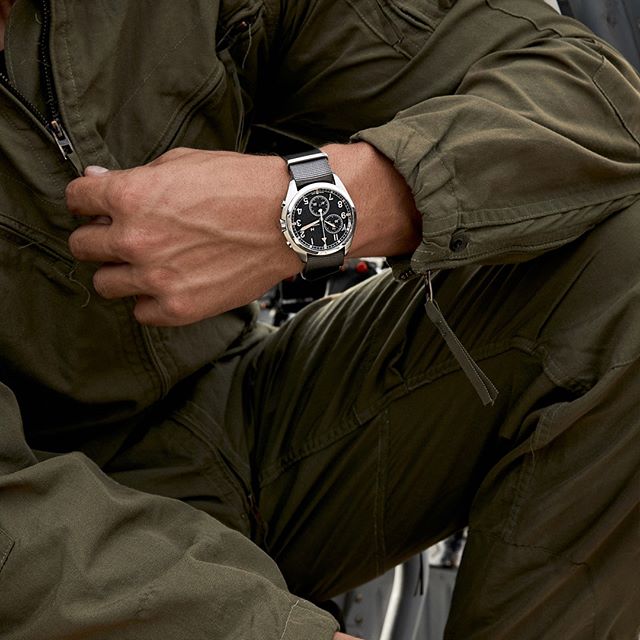 Aside from its involvement in transportation, Hamilton Watches also had its fair share of cameos on the big screen. Some notable films include Shanghai Express, Interstellar, and The Martian. "The King" himself, Mr. Elvis Presley, even wore a Hamilton watch in his movie, Blue Hawaii. With over 450 appearances in different Hollywood movies, it's no wonder that Hamilton Watches became known as the "Movie Brand" in the watchmaking industry.
Where Are Hamilton Watches Made
Since its founding until the 1970s, Hamilton Watches were manufactured in America. However, after major changes in the company, including a move of headquarters, Hamilton Watches have been manufactured in Switzerland. It is important to note, though, that although the movements are all Swiss-made, some of the watch components may be manufactured in Asia. And despite the move to Switzerland, Hamilton Watches have maintained its American design, staying true to having American spirit with Swiss precision.
Hamilton Watches' Best Collections
Throughout its almost 130 years of existence, Hamilton Watches has created tons of watches under different collections. Here, we'll take a look at their best collections and what they have to offer.
Hamilton Ventura
An iconic series, the Ventura has been a part of Hamilton Watches since 1957. The watch series is famous for being the first battery-powered electrical watch, and also the watch that Elvis wore. This collection sports a distinct triangular design which is quite uncommon in the world of watches.
Hamilton Ventura Quartz Watch (H24411732)
This watch from the Ventura series is an ode to mid-century modern design with its daring shield shape and asymmetric stainless steel case. It is a watch that definitely stands out and would garner compliments every time you wear it.
The Hamilton Ventura is unlike any other watch you'd have lying around. It offers a unique and fresh look to your day-to-day outfits and would look quite stunning accompanying a nice, well-tailored suit. For a classic watch, it has a quite futuristic feel and has the reputation of being the Elvis watch, although in a different variant.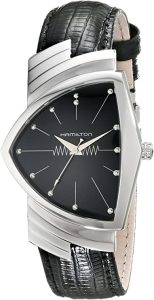 Specs
Size: 31mm
Movement: Quartz
Strap Material: Leather
Strap Width: 18mm
Water Resistance: 50m
Hamilton Khaki Aviation
True to its history of accompanying pilots as they race through the skies, Hamilton Watches offers the Khaki Aviation series. This series merges adventure with accuracy for the avid flyer. It is comprised of reliable and beautifully designed aviator watches.
Hamilton Khaki Aviation Day Date Auto Watch (H64615135)
The Khaki Aviation Day Date Auto Watch emulates the aesthetic of the pioneering aviator cruising through the skies at the turn of the century. It merges classic and contemporary by incorporating modern-day material with a vintage look. The watch is quite easy to read with a nice contrast between the background and the letters and numbers. True to its promise of being a precise aviation watch, the Khaki Aviation's accuracy is impeccable and its design is sophisticated. 
Specs
Size: 4 mm
Movement: Swiss Automatic
Strap Material: Stainless Steel
Strap Width: 20mm
Water Resistance: 100m
Hamilton Khaki Field
From up in the air, we go back down to the rough and rugged dirt with the Hamilton Khaki Field. This collection was made to survive the incredibly intense military lifestyle. These watches are perfect for the outdoors and can handle even the most extreme sports out there. This is definitely a collection for the brave adventurer who is always ready to go out into the field. 
Hamilton Khaki Field Auto Watch (H70455533)
The Khaki Field Auto Watch is the watch of any adventurer's dreams. As a military watch, it is incredibly resilient and quite reliable. Although quite compact, its functionality is exquisite, even having an 80-hour power reserve. It is well-crafted with a self-winding automatic movement. The Khaki Field Auto is a timeless piece in its simple yet elegant design. It is definitely a watch you can take with you on your adventures in the rugged outdoors.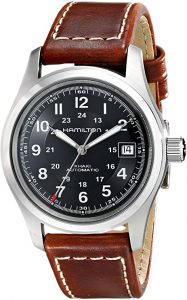 Specs
Size: 38mm
Movement: Automatic Self Winder
Strap Material: Leather
Strap Width: 20mm
Water Resistance: 100m
Hamilton Khaki Navy
We've gone up in the air and back down to the field. And now, let's complete the trio with the Hamilton Khaki Navy down in the blue sea. This collection is the perfect companion for your underwater adventures. Designed for the marine explorer, this watch series can handle some depths and is even equipped with luminescent displays for your nighttime swimming.
Hamilton Khaki Navy Scuba Auto Watch (H82335131)
The Khaki Navy Scuba Auto Watch is the ideal watch to accessorize your summers at the beach and pool. It adorns a classic yet eyecatching design that looks good in and out of the water. In terms of functionality, it's got a pretty accurate movement and has an amazing 80-hour power reserve. It's a beautiful watch that can take a beating, so no need to be all conscious when wearing it to different activities.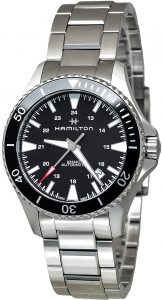 Specs
Size: 40mm
Movement: Automatic
Strap Material: Stainless Steel
Strap Width: 20mm
Water Resistance: 100m
Hamilton Jazzmaster
Hamilton Watches showcase their refined quality craftsmanship in the Jazzmaster series. These watches offer a fresh and contemporary feel. They are well-crafted and elegantly designed and are perfect for those wanting to enjoy the finer things in life.
Hamilton Jazzmaster Day Date Auto Watch (H32505731)
This watch from the Hamilton Jazzmaster series promises contemporary craftsmanship with refined elegance. It is a watch you can pair with a fancy suit and tie, but one that would still look great with a casual everyday outfit. When it comes to reliability, you can bet that this watch can last you years. It's definitely a great deal with the quality you get for the price.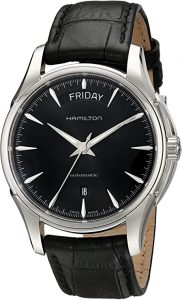 Specs
Size: 40mm
Movement: Swiss Automatic
Strap Material: Leather
Strap Width: 20mm
Water Resistance: 50m
Hamilton American Classic
From contemporary, we go back to the good old classic. The Hamilton American Classic watch series embodies the American spirit that Hamilton tries to capture in their watches. This series offers versatile vintage looks that you can pair with almost any outfit.
Hamilton American Classic Spirit of Liberty Auto Watch (H42415551)
The Spirit of Liberty Watch perfectly captures the classic American design of watches that Hamilton was known for in its earlier days. This watch brings out an elegant, timeless look into the contemporary world. Each leather strap is unique since they are all carefully colored and treated by hand. This process leads to the distinct patterns each leather strap adorns. It is a timeless watch perfect for all occasions.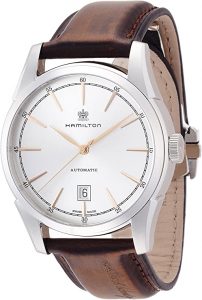 Specs
Size: 42mm
Movement: Swiss Automatic
Strap Material: Artificial Leather
Strap Width: 22mm
Water Resistance: 50m
Hamilton Broadway
Now, don't confuse this with the hit broadway musical, Hamilton. The Hamilton Broadway collection is one made for the modern metropolitan guy. This series mixes sophistication with street style, incorporating vibrant colors and interesting textures in its design. The Hamilton Broadway series is definitely the type of watch for the style-conscious contemporary man.
Hamilton Broadway Day Date Quartz Watch (H43311735)
A watch that showcases a theatrical personality in its style, the Hamilton Broadway Day Date Quartz Watch is bold and eye-catching. Its contrasting textures paired with a contemporary color palette brings out the beauty in this watch. It is classy and reliable, pairing well with almost any outfit in your wardrobe.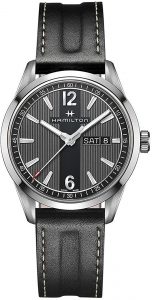 Specs
Size: 40mm
Movement: Quartz
Strap Material: Leather
Strap Width: 18mm
Water Resistance: 50m
Where to Buy Hamilton Watches
Hamilton Watches are located all over the globe. If you're wondering if there are any certified resellers near you, you can go and check on the Hamiton Watches store locator on their official website. Speaking of their website, you can also purchase them through their online store. Or you may also check out the many watches they have up on their official Amazon page.
Hamilton Watches' Selling Points
Every company has a well-curated formula for its success. This success, of course, is a result of different factors and decisions. It can get quite complicated, as running a business — let alone a successful one — is definitely no walk in the park. But from the consumer point of view, a brand's success bottles down to a few aspects known as its selling points. These are what the consumers consistently see from the brand that makes them drawn to it and possibly become loyal to it. For Hamilton Watches, we can summarize it into these three points: diversity, legacy, and value.
Diverse Collections
Earlier in this article, we've covered the different collections under the Hamilton Watches brand. And if you noticed something, their collections offer a certain extent of diversity. You can see this in the three khaki series. Hamilton Watches cover the air, ground, and sea with their aviation watches, military watches, and dive watches. You certainly will have a lot of choices when it comes to purchasing Hamilton Watches. And its diversity does not stop at functionality. The range of their designs are quite impressive as well. You have vintage looks in the likes of the American Classic Series, and then you have this distinct, futuristic vibe in the triangular Venturas. Whatever kind of look or function you're looking for, Hamilton Watches has got you covered.
A Trusted Legacy
Often, people trust brands that the people they look up to trust. For example, a huge part of the Hamilton Ventura's success back in the day was due to Elvis Presley wearing it in his movie. Who wouldn't want a watch that The King himself approved of? And it's not only Elvis Presley. Hamilton Watches have been a part of several films throughout the years. If big Hollywood costume designers and producers trust the brand, then there's no reason for the regular man not to. 
Great Value
Although not really a luxury brand, Hamilton Watches aren't cheap as well. They are in the mid-range when it comes to pricing. But as far as mid-range watches are concerned, Hamilton is definitely one of the better ones. Compared to its competitors in that range, Hamilton Watches are quite affordable, given that they are Swiss-made watches. They produce good quality watches at reasonable pricing, creating great value.
Final Thoughts
Hamilton Watches is a well-trusted American brand that brings together the American spirit and heritage with Swiss movements and craftsmanship. Their diverse sets of watches ensure that every watch lover can find something they like in the brand. It is a brand that has accompanied the American citizen through different milestones in history. And it has stayed up to date, offering both classic and contemporary looks. Hamilton Watches brings together function and fashion, and it is a brand that is sure to offer more in the future.
If you want to check out other American watch brands, take a look at our review on Fossil Watches.