Eager to upgrade your style with a nice, handsome watch but don't want to dent your wallet? Don't worry. Believe it or not, there are a bunch of great watches that don't even cost more than $100. If you're looking for some cool, well-made watches that fit your budget, then Stuhrling Original could just be the brand for you.
Let's take a brief look at the brand and discover the best affordable Stuhrling watches they have on hand — pun intended.
Stuhrling Watches: Pride of New York
From the name alone, you'd probably think that Stuhrling Watches hails from Europe, as several watch companies often do. But you'd be surprised to find that Stuhrling Watches actually has its roots in the Big Apple. Although being a relatively young company — established in 1999 in New York City — Stuhrling Watches has a rich culture that is forged in the old tradition of watchmaking. 
Stuhrling Watches takes its name from Max Stuhrling who was a renowned watchmaker in Switzerland in the 1800s. Its founder, however, is actually Chaim Fischer, who had an ambitious vision. He wanted to "start at the top" and produce tourbillon watches, one of the most complicated watch movements.
Fischer launched this dream by assembling an incredibly skilled team of watchmakers who was able to create an outstanding tourbillon collection. And what's even more amazing is that for a well-crafted collection of watches bearing one of the most complicated watch movements, Stuhrling was actually able to offer the watches at affordable, groundbreaking prices.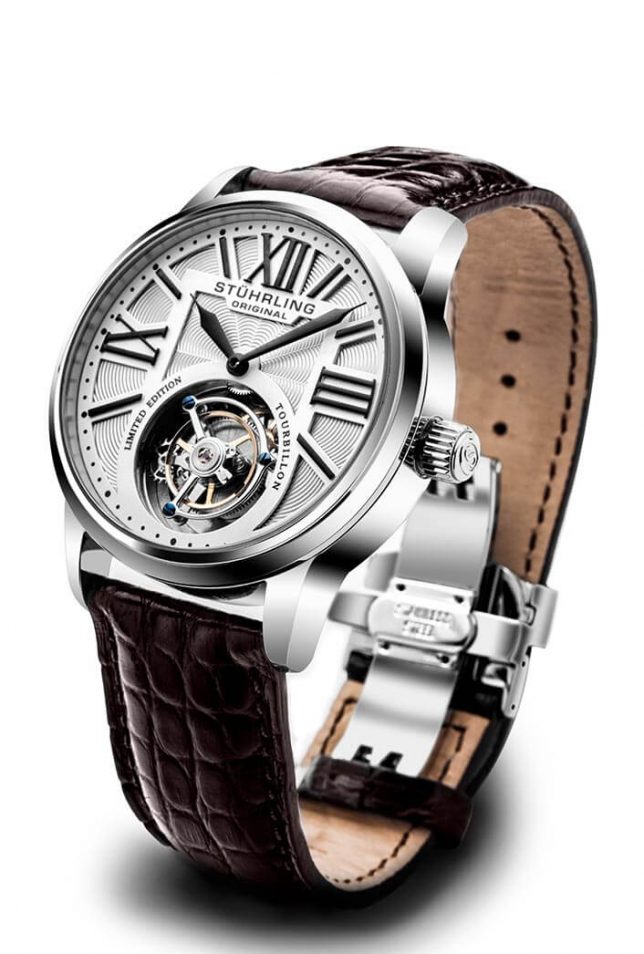 The debut tourbillon collection was, as expected, a hit. This started off Stuhrling's reputation on a high note. And since the release of its first watch collection, Stuhrling has put out amazing watches with a wide range of features and complications, including chronographs, dive watches, and skeleton watches.
As one of the best affordable watch brands in the market, Stuhrling Original has continued to produce amazing watches at equally amazing prices. Here are a few of the best Stuhrling Watches you can find that are only under $100. Talk about a great deal, right?
Best Stuhrling Watches Under $100
If you're looking to get a Stuhrling Watch of your own but are a little bit short on cash as of the moment, then these watches are a great place to start. We've compiled this neat list of Stuhrling Watches whose prices do not go over $100.
We'll take a look at their aesthetic, their features and specifications, and what customers love and hate about the product. This way, you'll get a perfect idea of what you're in for when you purchase the watch and be able to gauge properly which watch is the best fit for you. And the best thing about this list is that you can find all of these watches on Amazon for a more convenient purchasing experience. So, without further ado, let's go right into it.
1. Stuhrling Original Pro Diver Watch
First off the bat, we have this Pro Diver watch from Stuhrling Original. This is a classic stainless steel watch, but with an added pop of red on its bezel that makes it look quite striking. The watch is quite easy to read with large hour markers and luminescent hands. Since it is a diver watch, it has some pretty good water-resistance of 100 meters, perfect for swimming and snorkeling.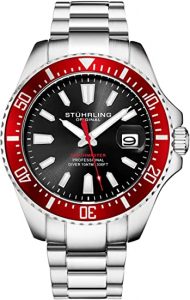 Customers love how, for a watch that costs less than a hundred dollars, it is pretty well-built and it feels good on the wrist as well. And not only is it an attractive accessory but it also keeps excellent time, running on a Japanese Miyota movement.
2. Stuhrling Original Vintage Mechanical Pocket Watch
Next on our list, we have quite an interesting timepiece. If you're a man who finds class in vintage timepieces, then you'll definitely love this Stuhrling Original Vintage Mechanical Pocket Watch. The watch has a beautiful gold-tone stainless steel case that comes with a 12-inch chain that you can easily hook to your belt loops.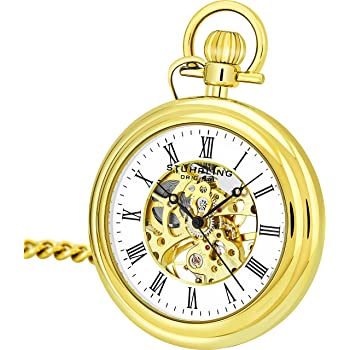 When it comes to design, this vintage pocket watch is definitely a stunner. Its skeleton or open-heart dial allows you to take a look into the intricate movement of the watch. Satisfied customers love the watch but warn potential buyers that the watch could be a bit difficult to read in dim light due to the thin hour and minute hands. But for a watch that costs less than $100, it's quite stunning and keeps excellent time.
3. Stuhrling Original Felucca II Date 
From a vintage pocket watch, we now go to a much more contemporary look. This Stuhrling Original Felucca II Date Men's Watch has a refreshing, cool look to it with a half orange and half black unidirectional ratcheting bezel. Its strap is made of genuine leather covered in an attractive black canvas.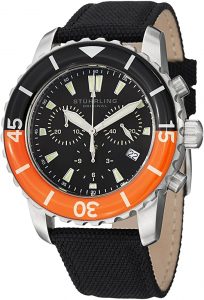 Reviewers love how well-built the watch is, noting how solid the watch casing feels. The bezel is nice and tight and doesn't wobble. It's also quite easy to grip and turn. The watch is comfortable on the wrist, having a nice weight to it. 
4. Stuhrling Original Minimalist Dress Watch
If you're looking for a minimalist watch to match your aesthetic, then consider this Stuhrling Original Men's Minimalist Swiss Quartz Watch. The watch sports a stunning deep blue dial that goes well with the stainless steel case. True to its minimalist aesthetic, the watch doesn't rely on unnecessary frills to decorate it with. Instead, its design is pretty clean with the usual index hour and minute markers and a small date window.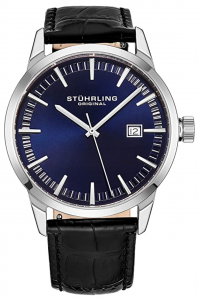 The watch also sports a nice black leather strap, which has an embossed alligator pattern to make it more aesthetically pleasing. This watch's classic and clean look makes it perfect for formal events, but at the same time, it won't look out of place when paired with a simple shirt and jeans.
5. Stuhrling Original Women's Lady Nautic Date 
This next watch is for the ladies out there. This Stuhrling Original Women's Lady Nautic Watch is a classic stainless steel watch with an added flair. The watch comes in a stunning matte pink dial decorated with Swarovski crystal hour markers. Its bracelet is made of polished stainless steel, making it a perfect watch to have on formal events or even for casual daily wear.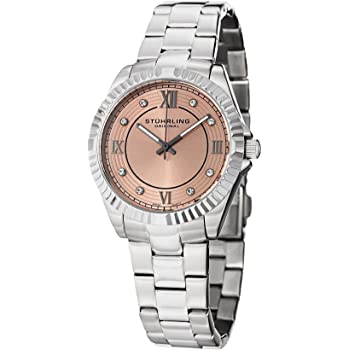 The watch is also water-resistant, able to function perfectly up to depths of around 100 meters. Reviewers say that it's the perfect combination of functionality and comfort. However, some customers warn that you might have to remove a couple of links since the band can be quite large even for a big wrist. Other than that, it's a pretty good watch to have. 
6. Stuhrling Original Classic Dress Watch
Here's another classic leather watch to add to your collection. This minimalist quartz watch sports a nice traditional look with a clean cream dial paired with some black accents for the markings. The strap is also in black leather with an embossed alligator pattern to add to the look.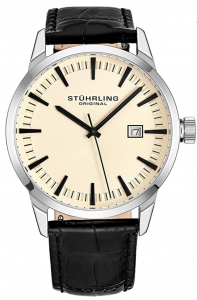 This is the type of watch every man should have in their wardrobe. It's nice and simple and can be paired with almost any outfit. It's simple yet sophisticated, which is what reviewers love about the watch. Add this to your wardrobe basics and you won't regret it.
7. Stuhrling Original Tuskegee 581 Aviator Watch
Next on our list is this cool men's aviator watch. As with many other entries on this list, this watch sports a stainless steel case paired with a classic leather strap. The watch is pretty easy to read, with a great contrast between the black dial and white accents on the hour markers. The hands are also half-black and half-white, with the ends being in white for better visibility. The strap is made from genuine black leather, which looks great with the red stitching. This watch has a water-resistance of up to 50 meters.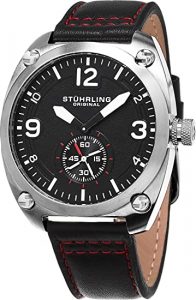 Customers love the watch, noting that for the price they paid, the watch's quality exceeds expectations. Be warned, though, as this watch's band might be a bit too small for those who have larger wrists.
8. Stuhrling Original Classic Ascot Solei Elite
For those wanting a stainless steel watch with a bit of an added edge, try this Stuhrling Original Classic Ascot Solei Elite Men's Watch. The dial is pretty simple yet sophisticated. It's quite easy to read with a mix of large Romand numerals and index hour markers against a white dial.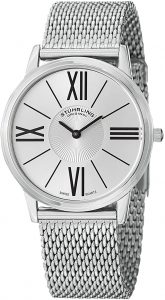 The watch's bracelet is what makes it unique as it has a cool mesh design. Customers love the elegance the watch exudes. But be warned since some reviewers have complained about the watch not functioning after a few months. 
9. Stuhrling Original Women's Sparkle 
Next, we have another women's watch on our list. This Stuhrling Original Women's Sparkle Watch puts a contemporary twist to the classic stainless steel watch. You can't really go wrong with a classic stainless steel bracelet. But what makes this watch a stunner is its dial and bezel. The dial is in a beautiful rose gold color with sand- finished inner circle. Its dial is decorated with Swarovski crystal hour markers that add to the watch's elegance. The bezel is also studded with Swarovski crystals, making the watch an eye-catching, fashionable piece. 
However, if you prefer lighter watches, then this watch might not be to your liking since reviewers have commented that the watch was thicker and heavier than they expected. 
10. Stuhrling Original Leather Aviation Watch
If you're planning on being more adventurous with your accessories, consider this aviation watch from Stuhrling Watches. This isn't your traditional leather watch. The watch incorporates a good mix of colors and textures that just builds up its overall aesthetic. Let's start with the dial. The dial is in a classic black, but it mixes together the traditional smooth look with a more grainy, textured pattern in some areas.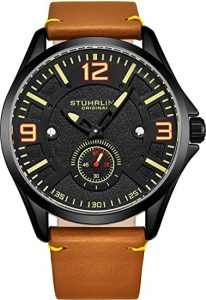 This watch is also quite easy to read since the creamy yellow hour markers create a great contrast against the black dial. The Arabic numerals on the dial are also in the same creamy yellow as the indexes. Now going to the watch's strap, we can see that it is in a nice light brown leather which has a bit of yellow in the stitching accents.
11. Stuhrling Original Military Aviator Watch
Looking for more texture in your typical watch designs? Take a look at this Aviator quartz watch from Stuhrling Watches. This watch puts a twist on the classic black dial by incorporating a nice grainy texture to it. It really makes the watch pop. Continuing with the texture aspect, you can happily run your finger against the rigged edges of this watch's bezel.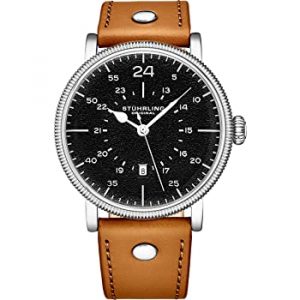 The watch's design is finished off by a classy light brown genuine leather strap that really goes well with the case and dial. And in terms of functionality, the watch is easy to read because of the contrast between the white 24-hour Arabic numerals against the grainy black dial.
12. Stuhrling Original Classic Black Dress Watch
Going back to the classics, here we have a watch that should definitely be part of your wardrobe basics. This classy black dress watch is your traditional go-to leather watch. Its simplicity adds to its sophistication. The minimalist design is quite pleasing to the eyes, with just classic silver index hour markers against a dark dial and a date window at 4 o'clock.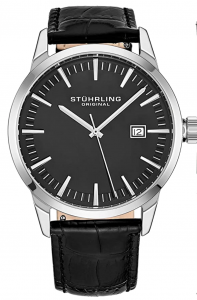 This watch also sports a dark leather strap, which has an embossed alligator pattern to give it more of a luxurious look. Whether a formal event or just a casual day, this watch can be your best friend.
13. Stuhrling Original Cuvette Contra Ultra-Slim Watch
Next on our list of Stuhrling Watches is this handsome Stuhruling Original Cuvette Contra men's watch. This is yet another classic watch with a contemporary twist. The watch is nice and sleek with a black dial and a matching black leather strap. But the dial is not that plain since it has a nice sunburst design with a lighter center that fades into a gradient as the radius expands. The watch has a nice minimalist feel, with no added frills — just a pair of watch hands and a mix of slim Arabic numeral and index hour markers.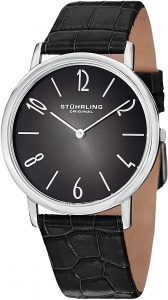 This watch is quite easy to read since the hour markers are quite large, plus their white color creates a nice contrast against the black dial. To finish off the design, the watch's strap sports an embossed alligator pattern which is quite stunning. Be warned, though, as this watch's strap could be a bit too short for those with larger wrists.
14. Stuhrling Original Condor Date 
Here, we have another handsome leather watch. Like the other watches, this Stuhrling Original Condor Date Watch also has an embossed black leather strap. The dial is in a nice, classic creamy white. Its black hour markers make the watch quite easy to read. This watch is nice and simple and is a perfect everyday timepiece that you can sometimes dress up for more formal occasions.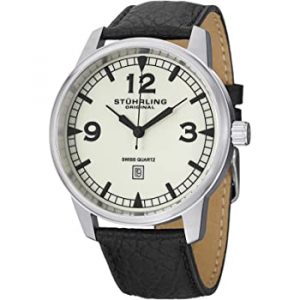 It is important to note, though, that some reviewers have said that the watch's dial was larger than what they expected. So consider that if you're not so fond of big dials.
15. Stuhrling Original Cuvette SD Date 
Lastly, we have this leather Cuvette SD Date watch from Stuhrling that spices up the traditional leather watch with a cool-looking dial design. The watch's strap is similar to the other ones on this list, which have a black leather embossed with an alligator pattern.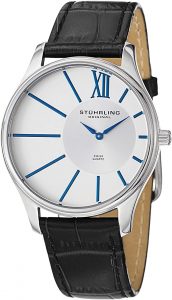 But what takes the cake for this watch is its contemporary dial. The dial has an off-center design, with the watch hands skewing to the right of the dial. It's a clean white dial that sports blue accents in its hour markers.  Its cool, asymmetrical design is what watch lovers like about this watch.
Final Thoughts
Stuhrling Watches sure knows how to deliver quality watches with great designs and at affordable prices. For watches under $100, the ones on this list just exceed expectations, leaving customers mostly satisfied. If you want to upgrade your style while still sticking to a strict budget, then Stuhrling Watches is the way to go. 
Looking for more affordable watches? Check out our article on the best digital watches under $100.