Watches are already significantly complex pieces in themselves. As a provider of a complicated concept that is time, timepieces are not easy topics to learn. But it gets easier once you've passed through the basics of it. After all, while watches are engineering marvels, they're nothing that can't be mastered. So, in an exploration of the greatest timepiece innovations, we find tourbillon watches. You've probably heard of them and immediately anchored at least a five-figure price tag with it. Trust us, you're not the only one.
Of course, these timepieces are expensive. Most people new to the business would think they're just really intricate designs that make watches more expensive than they should be. They don't necessarily have golds or diamonds either. But you don't have to spend your life's fortune to own one. While Tag Heuer labels their $20,000 tourbillon watch "affordable", you can easily find one that costs less than a small fraction of such price. So what exactly adds the zeros in a tourbillon watch's price? Is it really possible that there are $1000 tourbillon watches out there? Spoiler alert: there are and you'll be pleased to learn about them.
What are tourbillon watches?
Tourbillon watches are, well, timepieces powered by the tourbillon mechanism. It's a hypnotic mechanism that is a truly unique horological asset. They are unique in a sense that makes them one of the most uncommon complications in a mechanical watch. They are truly captivating pieces that you may find fascinating to see up close. But a lot of dealers and new collectors would mistake a tourbillon watch for "open heart" designs or the opposite. It can truly get confusing but once you get the hang of it, you'll find great pleasure in identifying them. So the real question continues:
How does a tourbillon work?
To understand how a tourbillon works, we shall first discuss its brief history and the main parts that make up a mechanical watch.
Abraham-Louis Breguet, a French watchmaker, invented the tourbillon around the 18th century. Because of gravity, the escapement may function differently depending on how it is positioned. Pocket watches, for instance, are usually held vertically in one's pockets. If stuck in that position for an extended period, gravity works its way to alter the motion of the escapement. Therefore, regulation is a must. To further explain that, here's how the mechanical movement works:
The Mechanical Movement
Here's how mechanical movements work. Firstly, there's a spring or mainspring that can either be manually or automatically wound. This provides the energy to the watch. Then, the energy a spring produces travels through the gear train made up of three separate gears. After that, it goes through the escapement, then to the weighted wheel. The escapement changes the circular energy received from the spring to a left-and-right motion. You might have heard of the term "balance". That's the weighted wheel. It's also known as the balance wheel, comparable to a pendulum in antique clocks. The oscillating movement caused by the balance spring is the timekeeper. The balance wheel and the balance spring make up a coordinated oscillator. The escapement and the balance wheel work hand in hand in to regulate the energy that flows through the watch.
The Challenges
While a mechanical movement is already marvelous in itself, it comes with various problems of its own. For instance, energy loss. Because the energy passes by three gears, there is a lot of energy lost in the process. But one of the most persistent issues mechanical movements face is one that's pretty out of anyone's control: gravity. Yes, the force that keeps you on the ground can be quite a problem for that thing around your wrist. Aside from this, temperature, magnets, and other environmental forces can be quite the group arch enemies for watches.
As a solution to the gravity concern, now exists the tourbillon.
The Solution
Breguet crafted a solution which he believed changed the way gravity affected his watches. He placed the regulating system that is the escapement and the balance wheel in a cage that constantly rotates around its axis. This allowed for gravitational pull to spread evenly on the regulator. It wasn't a marvelous solution and it can be argued if it was a solution at all. However, horology then and now is a work in progress and at the time, it was a solution people found exquisitely unique.
How does a tourbillon look like?
Although, technology has later proved that tourbillon may not be necessary as they should be. But as superfluous as it could be, it's still a popular choice to include in a mechanical watch especially in the Swiss watchmaking scene. Today, you'll see the tourbillon through a window on the dial of a watch. If you see a turning, encased system you'll immediately get hypnotized by, that should be it. But it's particularly not of any use. They're mostly just for the theatrics of it.
What makes tourbillon watches so expensive?
Well, if it's just for theatrics then why are tourbillon watches one of the most expensive ones in the market? They are not made of gold and they are not studded with diamonds or other gemstones. There's no easy way to say this but the luxurious feel of a tourbillon on a watch is enough reason for it.
Luxury fashion is a forest not of form or function but of style, name, as well as complexity. Off White has a binder clip as a fashion accessory and it costs $100. A tourbillon works around the same category. It's a complex system and an intricate addition to an already complicated movement. While it only has two main parts, a tourbillon actually has at least about 40 separate pieces. Only a master craftsman or horologist will be able to create one. Now, that also explains why it's most Swiss manufacturers that create tourbillon watches.
5 Best Affordable Tourbillon Watches Under $1000
While the market still mostly consists of five to six-digit tourbillon watches, there are a lot of inexpensive choices that cost less than a thousand dollars. You'll most likely find these in Chinese manufacturers as they became influential sources of affordable tourbillon watches. So, if you're in the hunt for truly affordable tourbillon watches, you might want to search for microbrands or scour the Internet for choices. But we already did the latter for you, so here are 5 tourbillon watches under $1000 that scream luxury without breaking the bank.
1. Akribos XXIV AK493 Mechanical Tourbillon
Akribos is a Chinese microbrand that has been a favorite among Internet forums. For anyone looking for an entry-level tourbillon watch that won't put a hole in your pocket, the Akribos XXIV AK493 Mechanical Tourbillon is for you. The watch undoubtedly speaks classy and elegant with its design. It has a skeleton window for the tourbillon movement as well as a dual time sub-dial. This tourbillon watch also has an AM/PM indicator elegantly designs with a sun/moon window at 3 o'clock. To further elevate the watch, it has a 7¼ inch genuine alligator leather strap with a deployment buckle closure. The fluted onion style crown makes for an easier grip and adjustment and takes its water resistance at 165 feet or 50 meters. The watch, overall, is on the bigger side with a 42mm case that sits at 14mm in height from your wrist.
Akribos XXIV Men's AK493
Mechanical Tourbillon
Case diameter:  42mm
Case Thickness: 14mm
Band Material: Leather
Movement: Mechanical Manual
Water resistance: 165 feet / 50 meters
2. Reef Tiger Aurora Tank II RGA3069
Chinese manufacturers sure knew how to make affordable tourbillon watches. They have been dominating the entry-level market for tourbillon watches. For instance, with the Reef Tiger Aurora Tank II RGA3069. It's truly unique in many aspects, aside from its tourbillon regulation system. With a tank shape design, the watch is, indeed, quite uncommon. It's as sporty as it is elegant with a sleek black hue and smooth curves. It has large hands and special hour markers. This tourbillon watch also has a rubber strap for a more rugged look that can be taken outdoors. It truly is an outdoor watch with a water resistance of up to 100 meters. This watch can surely be taken from a 9-to-5 straight to a night out or an outdoor adventure during the weekend. It's one of the tourbillon watches that you would want to start your collection with.
Reef Tiger Aurora Tank II RGA3069
Case diameter:  45mm
Band Material: Rubber
Movement: Mechanical Automatic
Water resistance: 100 meters
3. OLEVS Automatic Day/Date Tourbillon
OLEVS has been creating fashionable watches with high-performing functionality at affordable prices. This watch, the OLEVS Automatic Day/Date Tourbillon, has a window to showcase its tourbillon. It also has two sub-dials for the day of the week at 9 o'clock and date at 3 o'clock. Because of its classy design, it can easily be a dress watch or a daily companion to work. Just as the Akribos XXIV AK493, this watch also has an AM/PM indicator in the form of a sun/moon window. It truly is entertaining to own this watch with its many functionalities. To further its fashionability, the watch has a stainless steel bracelet with a hidden butterfly push button that makes it extra comfortable around the wrist. But it would be a delight to know that the watch comes with a luminescent display for a more legible reading and is water-resistant for up to 30 meters or a hundred feet.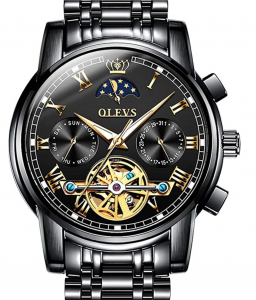 OLEVS Automatic Day/Date Tourbillon
Case diameter:  41mm
Case Thickness: 12.5mm
Band Material: Stainless Steel
Movement: Mechanical Automatic
Water resistance: 100 feet / 30 meters
4. Forsining Tourbillon Moon Phase Watch
If you think you've seen affordable, wait until you've seen this watch. With its price point, you'd be a little skeptical about hitting the buy button, but hear us out. For a Chinese manufacturing company, the Forsining Men's Tourbillon Watch is a true tourbillon with a classy look that anyone can easily fall in love with. Its 44mm case is made of alloy and stands at 13mm thick. It screams luxury as you wear it that's perfect for a night in a suit and tie. The leather strap is also a comfortable and elegant choice for the watch and you never would have guessed this watch retails for less than $100.
FORSINING Men's Tourbillon Watch
Case diameter:  44mm
Case Thickness: 13mm
Band Material: Leather
Movement: Mechanical Automatic
Water resistance: 100 feet / 30 meters
5. Binssaw Automatic Tourbillon Watch
The BINSSAW Automatic Tourbillon Watch will set your mood for a multi-functional mechanical sports watch. It gives you visual pleasure with its tourbillon that we're all chasing for at the end of the day. Aside from the tourbillon, you may also enjoy its date function and moon phase window. Overall, it's a delight to have this watch on your wrist for its fashionability. The case is made of stainless steel with a rose gold plating and it comes with a leather black strap. The dial crystal is made of Hardlex so it definitely is scratch-resistant and durable for the easy parts. This watch is splashproof at best. You would not want to take it for a swim or during a shower but you sure can wash your hands with it on. Overall, the watch gives off a vintage feel and an elegant finish. It can be worn to a suit and tie event or an important business meeting. You'll definitely make an impression with this watch!
BINSSAW Automatic Tourbillon Watch
Case diameter:  43mm
Case Thickness: 13mm
Band Material: Leather
Movement: Mechanical Automatic
Honorable Mentions
There are a lot of choices for watches under $1000 but it's best to be careful with what you buy. But if you're willing to splurge a little more over a thousand dollars, you might want to check out the following watches. They will give you just the right visual experience with a tourbillon, a functionality that's almost at par with expensive watches, as well as an affordable choice. These watches are favorites among enthusiasts.
1. Stuhrling Original Aureate Tourbillon ($1,200)
Stuhrling Original is a dedicated manufacturer of beautifully crafted timepieces. Among their collections is the Aureate Tourbillon. It features 42mm stainless steel-cased watches with an elegant dial design. Its dial has Roman numeral hour indexes with its lower dial decorated in a Cotes de Geneve pattern work. The genuine mechanical tourbillon sits at the bottom that is a sight to see when watched. The handcrafted timepiece comes with a genuine crocodile strap to up its elegance by a notch. For a watch that costs just $200 bucks over a thousand, it's a small price to pay for quality and very affordable luxury.
2. Perpetual Tourbillon T-02 ($1,450)
Perpetual is a cult favorite, especially in Internet forums. A lot of people suggest this brand for anyone wanting to start collecting tourbillon watches. This particular model, the Perpetual Tourbillon T-02, has a black dial with Breguet steel hands and steel Roman numeral hour indexes. It also has a date counter at 2 o'clock as well as a power reserve indicator at 10 o'clock. Its sleek design fits well in its 41 mm case that is 11mm thick. It has an anti-glare sapphire crystal and caseback.
Final Thoughts
Tourbillon watches sure have a lot more to do with aesthetics rather than function. However, it's the fine details and its intricacy that make it such a wondrous element to a watch. It's not surprising that Tourbillon watches are expensive especially if you're dealing with a unique horological system. But always remember that you don't have to spend your whole life saving up to buy one. You may find affordable choices everywhere and you'll be delighted by the choices you'll get. When the time comes and you're ready for your five to six-figure tourbillon watch, you'll look back on your first and find that they're all just pieces of art that as fascinating as each other.
---
Romantic designs are, indeed, great additions to your timepieces. If you're looking for more, check out these affordable moonphase watches that will suit your budget.