In the watchmaking business, it is a well-known fact that European watches dominate the scene. However, all-American brand Timex has made a name for themselves in the field of watches for many years. Since 1914, it has been delivering quality wristwatches not just to American homes, but all over the world.
Timex Watches are known to be durable and affordable. But what makes the brand tick (pun intended)? In this comprehensive review of the brand, we take a look into Timex Watches' history, legacy, and the best collections under their wing. And in the end, we answer the question, "are Timex Watches good?"
Timex Watches Best Sellers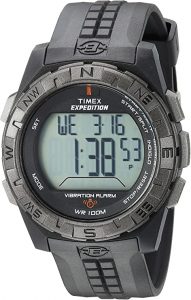 This Expedition watch is designed to survive the rugged outdoors. It has the typical features that come with a Timex Expedition such as the Timex Indiglo backlight, stopwatch, and countdown timer. But what sets this aside from the usual digital outdoor watches is its vibrating custom alarm.
Size: 43 mm
Movement: Digital
Strap Material: Resin
Strap Width: 22 mm
Water Resistance: 100 m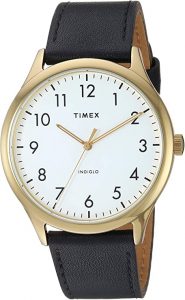 The Easy Reader is a modern take on the classic Timex 1977 watch. From the name itself, this watch showcases an easy-to-read dial. But the readability is further increased by the addition of the Timex Indiglo, which allows for better reading at night.
Size: 40 mm
Movement: Quartz
Strap Material: Leather
Strap Width: 20 mm
Water Resistance: 30 m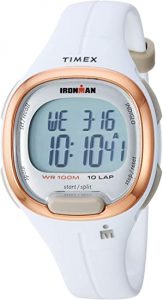 The Ironman Transit is a watch made for the woman on-the-go. It is nice and durable, with the usual features of an Ironman watch such as Timex Indiglo, countdown timer, stopwatch with lap memory, and customizable alarms. It is nice and sleek and is as much a fashion statement as it is functional.
Size: 33 mm
Movement: Digital
Strap Material: Resin
Strap Width: 12 mm
Water Resistance: 100 m
About Timex 
A household name for Americans everywhere, Timex has held a reputation for producing quality watches at affordable prices. It is a brand so well-known and loved that when one hears the words "it takes a licking" people would easily chime in with ", and keeps on ticking", finishing the famous Timex slogan.
History of Timex 
Although big watch brands usually hail from Europe, Timex was born in the Brass City, Waterbury, Connecticut in 1854. The company continued to produce affordable pocket watches until the switch to wristwatches around 1914 to the 1930s.
In 1950, Timex produced the first high-quality mass produced watch movement. And in the late 1950s, Timex made sure to stand by their slogan of "it takes a licking and keeps on ticking" by showcasing the watches' durability on live television. This was demonstrated through several attempts to destroy the watch and showing how it still comes out fully functional even after an intense beating.
In 1984, Timex produced the Timex Ironman, the world's first sports watch and a companion to many athletes thereon. The Ironman was further improved in  1992, with the introduction of the iconic Timex Indiglo, a backlight that changed the game for nighttime watch reading.
Timex Indiglo
The Indiglo is a true Timex standard since its introduction in the Ironman series back in 1992. Now, almost every Timex watch is equipped with the Indiglo backlight that illuminates the watch for better visibility at night.  It is a play on words, combining the color "indigo" and the word "glow" since the feature shows off a bluish glow when activating the button.
Timex Collections
With over 160 years of existence, Timex has produced a multitude of watches under different collections. Here, we take a look at the brand's most notable collections, the story behind each one, and the watches that best represent the collection.
Timex American Documents
With the forefront of watchmaking in Europe, Timex, as an all-American brand, made it a point to bring the European standard of watchmaking home with an American twist. The American Documents collection takes inspiration from home. It incorporates Swiss movement into American materials and is crafted by American hands. Each watch of the American Documents Series is carefully encased in a cherry wood case rubbed with a natural finish. It is a series inspired by the American people, culture and landscape.
Timex American Documents Dress Watch
True to its name, this American Documents watch is made from US-sourced stainless steel and American hides and made by American craftsmen. The Gorilla Glass 3 protecting the dial prevents scratching on the glass. The watch also sports a cool brass caseback coin and crown insert made from "Aged Waterbury Brass," an ode to the company's roots in the "Brass City" of Connecticut.
One unique thing about getting this watch is that every purchase of an American Documents watch gives you access to a high-resolution download of an image from the American Documents Gallery. Satisfied customers love the watch because it's quite easy to read and comfortable on the wrist as well. And for a beautifully crafted watch, it actually comes at a reasonable price.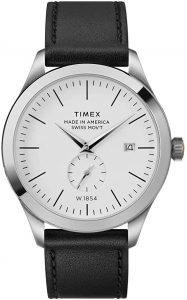 Specs
Size:

41 mm

Movement:

Swiss Quartz 

Strap Material:

Leather

Strap Width:

20 mm

Water Resistance:

30 m
Timex Marlin
A throwback to a classic, this series is a reissue of the original 1960s Timex Marlin. The original Timex Marlin was an iconic piece since it paved the way towards the mid-century design of Timex watches. This reissue does not only take inspiration from the 1960s Marlin, but is a recreation down to the last detail.
Timex Marlin Mechanical Hand-Wound Unisex Watch
Staying true to the original Marlin, this Timex Marlin reissue sports a classic hand-wound mechanical movement. Manually rotate the crown at around the same time each day to ensure continuous running. Wind it until you feel some resistance.
Aside from the hand-wound movement, the reissue also features the traditional domed glass lens. People who have owned the original version of this watch love it, calling it a perfect modern version of the original. They even often find themselves feeling a sense of satisfaction and a rush of nostalgia as they carefully wind the watch.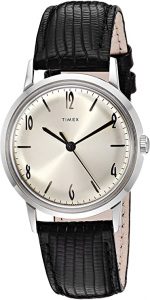 Specs
Size:

34 mm

Movement:

Mechanical Hand-wind

Strap Material:

Leather

Strap Width:

18 mm

Water Resistance:

30 m
Timex Expedition
From the name itself, the watches under this collection are ones you can take with you on any adventure. Made to withstand the harsh outdoors, this series is comprised of the toughest watches with the best durability. 
Timex Expedition Chrono-Alarm-Timer 
This handy digital outdoor watch can withstand the rough grind of daily use in the outdoors. It is equipped with a lot of cool features, starting off with the iconic Timex Indiglo to light up the dial for nighttime use. This is the perfect watch to train with since it has lap and split times, lap counter, and a countdown timer. It also has a customizable alarm to help you get up for that early morning jog.
You should note, though, that this is a smaller watch than typical. So if you have a somewhat big wrist, you might want to think twice before getting this particular Expedition watch. Other than that, though, the watch is well-loved not only for its features but also for how easy it is to set up and use. It's a nice watch to have to pair with your active lifestyle.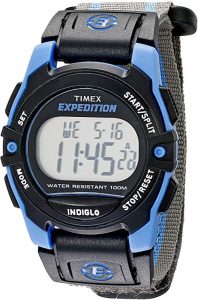 Specs
Size:

33 mm

Movement:

Digital

Strap Material:

Fabric

Strap Width:

16 mm

Water Resistance:

100 mm
Timex Standard 
The Standard is just what its name implies. It is based on the idea that every man should have standards in his wardrobe. These include basics such as a plain tee, jeans, a pair of dress shoes and, of course, a nice watch to go with it. This is what the Timex Standard has to offer. These are watches that can go with almost anything in your wardrobe.
Timex Standard Chronograph Watch
A classic watch you can wear on the daily with any outfit, this Timex Standard wows with its simple yet elegant design. This is the perfect classic watch for the modern man. The gray dial with the gold casing, paired with a timeless brown leather watch makes this watch a stunner on anyone's wrist.
It does not only look great but it also feels great to wear, resting comfortably on the wrist. And true to its name, it is a nice standard to have in your wardrobe because aside from having it as an everyday watch, you can also wear it when you dress up for any formal occasion. The Timex Standard truly is a great go-to watch.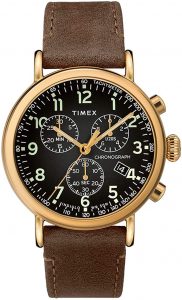 Specs
Size:

41 mm

Movement:

Quartz 

Strap Material:

Leather

Strap Width:

20 mm

Water Resistance:

30 m
Timex Ironman
In partnership with the famous Ironman Triathlon, the Timex Ironman series was made to aid triathletes to the finish line. Ironman watches are known for being sturdy and water-resistant to survive the swimming leg of the triathlon. These are durable digital watches equipped with stopwatches, timers, and other features that help enhance the experience of the triathlete.
Timex Ironman Classic Sports Watch
This is a watch that will take you to the finish line. The Timex Ironman is the perfect watch to pair with an active lifestyle. No need to worry about being slowed down since this watch is quite lightweight. It is also designed to survive the waters with its 100m water resistance. Its five-button design allows for easy access to its awesome features, which include the notable Timex Indiglo.
It has a stopwatch with 100 lap memory and an interval training timer along with the usual countdown timer. Customers love how easy it is to read and also use because of the no-frills design that focuses on functionality.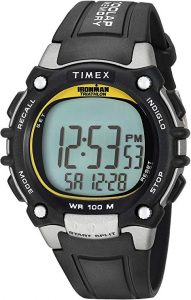 Specs
Size:

44 mm

Movement:

Digital

Strap Material:

Resin

Strap Width:

18 mm

Water Resistance:

100 m
Timex Waterbury
An ode to its origins, the Timex Waterbury is named after the birthplace of Timex in Waterbury, Connecticut. This collection taps into its roots by delivering timeless designs.
Timex Waterbury Classic Chronograph Watch
The black and rose gold combination on this Timex Waterbury makes it a stunning watch to have on your wrist. The watch comes with a nice date window and the iconic Timex Indiglo that makes reading this watch at night a breeze.
And even without using the Indiglo feature, the watch is still quite easy to read. It's a nice, classic watch that would go well with your outfit whether you're in a plain shirt and jeans or a bit dressed up.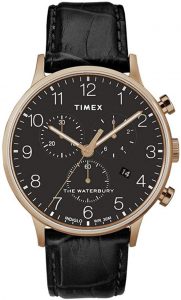 Specs
Size:

40 mm

Movement:

Quartz 

Strap Material:

Leather

Strap Width:

20 mm

Water Resistance:

30 m
How to Take Care of Your Timex Watch
Although Timex Watches are made to last, preventive measures through proper care can do loads of help in maintaining the sleek stainless steel of a Timex watch. Now, you may ask why stainless steel in particular? Well, stainless steel watches can be prone to wear or corrosion due to the dust or particles that may collect in between the links. Furthermore, if you happen to have a dive watch and frequently use it in saltwater, then continued exposure without proper maintenance can lead to some rusting.
The best way to care for your watch is to clean them regularly. That means setting aside a few minutes once a month to properly clean your watch if you use it daily. Less frequent use would mean less frequent cleaning.
The first thing you need to do when cleaning your stainless steel watch is to wipe it down. Use a gentle cloth or a paper towel. Next, you will need some lukewarm soapy water. Do not use hot water since this may affect the watch's water resistance. Soak it for a bit to remove oils and then wipe down with a soft cloth. If it is not water-resistant, make sure to only wet the straps. You may use a small brush to really get in those crevices, but make sure to be gentle about it and rinse afterward. Don't forget to dry the watch with a towel. For added shine, you may also apply some glass cleaner as a final touch.
Final Thoughts
For a brand that has stood the test of time, Timex is versatile, producing different watches of quality  — from classic leather watches to durable digital outdoor watches. They have created an astounding reputation for themselves that have led to people trusting in their brand, knowing that a Timex watch is one that is quality-made. Yes, they may not be European luxury watches, but they sure do the job. And they do it right. 
For the prices they offer, their watches come out in great value. It is not often that you find good watches for just under a hundred dollars. In fact, Timex watches made several entries on our list of the best digital watches under $100. And these are often watches that have been around for decades — a testament to the durability Timex has to offer. 
So, are Timex Watches good? The simple answer is yes. If you're looking for good watches at affordable price points, then Timex is the way to go. It is the perfect American watch for the typical American citizen.